H.H. Sheikh Mohammed bin Rashid honours UAE's Amnah Al Mansoori, Qatar's Abdullah Al Berri as joint Arab Reading Champions 2023…reports Asian Lite News
His Highness Sheikh Mohammed bin Rashid Al Maktoum, Vice President, Prime Minister and Ruler of Dubai, honoured winners of the Arab Reading Challenge 2023 at the concluding event of the 7th edition, which also saw awards granted to Community Champion, Outstanding Supervisor and Best School, as well as the People of Determination Champion.
Sheikh Mohammed Abdullah Mohammad Abdullah Al Berri from Qatar, and Amnah Mohammad Al Mansoori from the UAE, who tied for the first place as the Arab Reading Champions 2023.
The challenge in its 7th edition saw a record participation of 24.8 million students from 46 countries, representing over 188,000 schools under the mentorship of around 150,000 supervisors.
Speaking to an audience of over 1,500 people attending the event at the Dubai Opera, Sheikh Mohammed stressed that the "Future welcomes those armed with knowledge. It resides inside of books. Those who read today will get to write chapters in the book of tomorrow."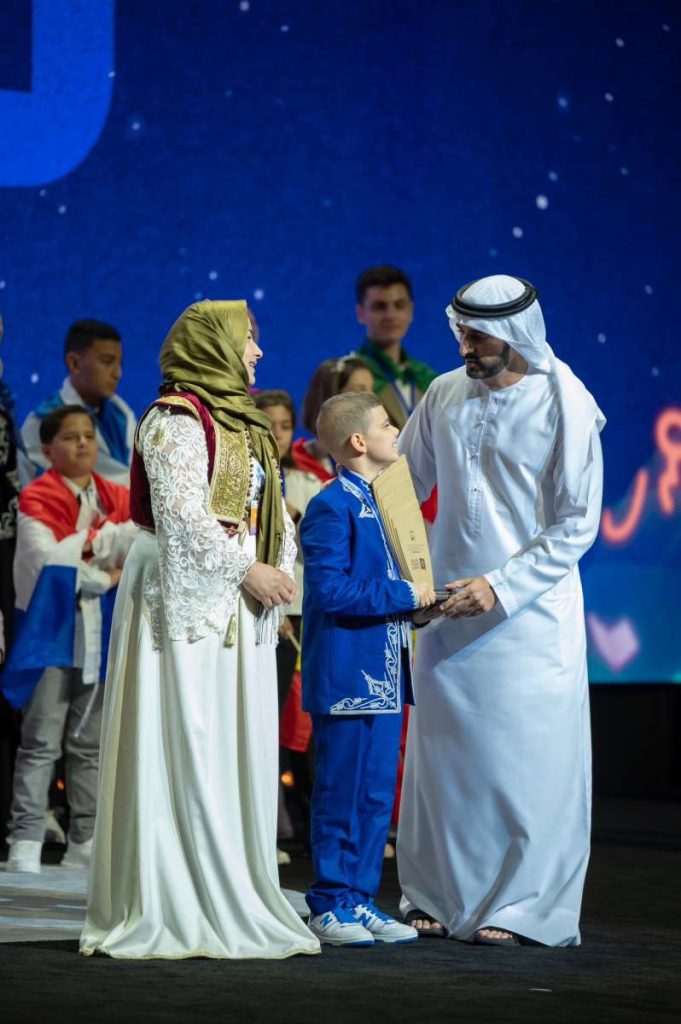 He said, "We are thrilled to witness the competitive spirit among Arab students, and to have met a generation of young minds who believe books are the best way to build the future.
"Reading is the key to understanding ourselves and the world around us. It is the compass that has outlined the path of human civilization and will continue to be the driver to better human life. The Arab Reading Challenge continues to reveal bright Arab minds, capable of miraculous feats," he added.
"We are proud of our Arab students and their commitment to the Arabic language. We deeply believe in their ability to preserve it and unlock endless horizons of knowledge. The UAE will always stand behind the Arab youth and help spread our Arab culture. This is a responsibility we all share.
"This year, we have 24.8 million champions, I congratulate you all, and thank all participating ministries of education and educators, as well as everyone who has contributed to this success. The Arab Reading Challenge is for everyone, because acquiring knowledge requires no permission," His Highness Sheikh Mohammed concluded.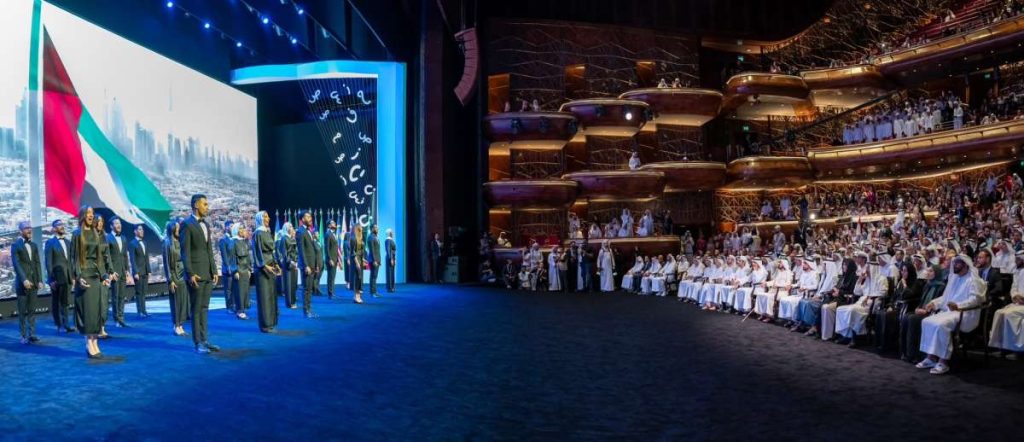 Investing in People
Mohammad bin Abdullah Al Gergawi, Minister of Cabinet Affairs, and Secretary-General of Mohammed bin Rashid Al Maktoum Global Initiatives, said that since its launch by His Highness Sheikh Mohammed bin Rashid Al Maktoum in 2015, the Arab Reading Challenge continues to evolve and break records, reflecting the visions of His Highness Sheikh Mohammed for investing in people, enabling the new generation to gain knowledge and encouraging them to read and enrich the Arab cultural scene. The initiative fosters a strong connection to the Arabic language and highlights its role as a key component of the Arab identity.
"Honouring the 7th Arab Reading Challenge Champions is an acknowledgment of excellence, perseverance and willpower of students, and of the dedication of tens of thousands of schools and educators.
"The Arab Reading Challenge will continue to grow in quality and quantity, further inspiring and impacting the lives of students who have grown more knowledgeable and more attached to their mother tongue. Just as addition of the People of Determination category this year represented a milestone, the Challenge will continue to introduce new ideas and updates that reflect its ambition and its mission," Al Gergawi added.
Fierce Competition
The final round of qualification for 1st place winners at witnessed fierce competition among the students who already passed several qualifiers, with Abdullah Mohammad Al Berri from Qatar and Amnah Mohammad Al Mansoori from the UAE emerging as joint Champions receiving the 1st place award of AED 500,000 each.
Naema Jehad Rajoub from Syria and Mohammad Walid Abdullatif from Egypt (Ministry of Education) tied for second place and received an award of AED 100,000 each.
People of Determination
H.H. Sheikh Hamdan bin Mohammed Al Maktoum honoured winners of the newly added People of Determination Champion category, which saw the participation of 22,506 students. Yousuf bin Dawoud from Tunisia won 1st place and an award of AED 200,000, followed by Abdullah Ammar Mohammad Al Sayyed from Egypt (Ministry of Education) in second place, earning an award of AED 100,000, while Zaid bin Tariq Al Adi from Oman won 3rd place and an award of AED 50,000.
Community Champion
H.H. Sheikh Hamdan bin Mohammed also honoured winners of the Community Champion category for students participating in the Arab Reading Challenge from non-Arab countries as well non-Arabs. The 1st place title was awarded to Mohammed Abdulraqib Ali Ahmed Al Kawkabani from Malaysia, who received an award of AED 100,000.
Maram Saddouqi from France came in 2nd place and received AED 70,000, while Hussain Mustafa Ihsan from Türkiye came in third and received AED 30,000.
Outstanding Supervisor
The Outstanding Supervisor Award, presented by Sheikh Saif bin Zayed Al Nahyan, went to Samaher Al Sawaei from Jordan, who outshined 149,826 reading supervisors taking part in the 7th edition of the challenge and received a AED 300,000 award. Winners of the 2nd and 3rd places for this category are Fuad bin Medyef Al Talhi from KSA (winning an award of AED 100,000) and Noorah Al Shehhi from the UAE (winning an award of AED 50,000), respectively.
Best School
His Highness Sheikh Mohammed bin Rashid Al Maktoum presented the King Abdullah II School for Excellence in Jordan with the Best School Award and an AED 1 million prize. It was followed by Saudi Arabia's Mawaheb Al Watan School, which received an AED 500,000 award, while the Martyr Pilot Ali Mohammed Ali School from Egypt came in third place and received an award of AED 300,000.
With 100 percent student participation, the King Abdullah II School for Excellence has launched several initiatives to highlight the challenge and nurture the love of reading among its students, organised several meetings with authors, poets and intellectuals, and signed partnerships with Yarmouk University and other institutions to support its initiatives.
Advertisements
[soliloquy id="31272"]
Advertisements
[soliloquy id="31269"]