The visit is aimed at collecting funds for rebuilding Kerala after the floods … reports Asian Lite News.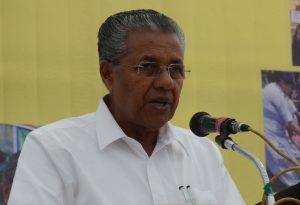 The Chief Minister of Kerala, Pinarayi Vijayan, will be visiting the UAE from October 17 to 20. During the visit the minister will hold public meetings and meet business community to collect funds for rebuilding Kerala.
The Chief Minister is expected to arrive in Abu Dhabi on October 17 evening and he will address a public meeting at Indian Social Center on the next day. The expat organisations are coordinating the chief minister's public programmes.
The minister is further expected to have similar programmes in Dubai and Sharjah on October 19 and 20.
The main agenda for the four-day visit is to seek investments to rebuild Kerala after the flood, which has caused large scale devastation. According to the state government the loss is more than 20,000 crore Indian rupees.
The procedural formalities of the visit are not yet over, the state government is awaiting permissions from central government and UAE authorities.