The Chief Minister, Pinarayi Vijayan has met Royal Family Members, UAE Companies, Prominent Keralites, Expatriate Organisations and Charity Foundations to garner support in rebuilding Kerala …  reports Asian Lite News.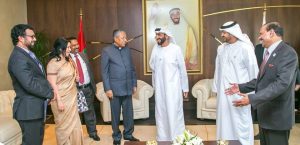 The visit of Kerala Chief Minister, Pinarai Vijayan to UAE has garnered support from the world renowned company in port management, DP World, in rebuilding a new Kerala. During the discussions with the Chairman, Ahmed Bin Sulayem, DP World expressed interest in launching Logistics and Industrial Park and also providing funding for Kerala's water transportation projects.
Cooperation received from Mubadala Investment company under the Abu Dhabi government also proved beneficial. Delegates from Mubadala is to visit Kerala soon.
Instruction to gather funds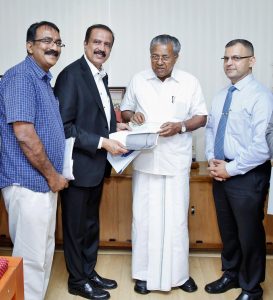 Lulu Employees gave ten crore rupees, Lulu Exchange gave seven crore rupees and even though there were no further financial aid offered publicly, the Chief Minister returned by giving the instruction to gather 300 crore rupees. This was during a review meeting participated by representatives of expatiate organisations such as Loka Kerala Sabha, Norka etc.
Aster DM Healthcare, Chairman, Dr Azad Moopen, Lulu Exchange, MD, Adeeb Ahmed, Film Artist, Asha Sarath were some of the prominent personalities who attended the meeting. In order to achieve this target by next June, KB Murali – Abu Dhabi, Anwar Naha, OV Mustafa – Dubai, Kochu Krishnan – Sharjah, Puthur Rahman – Fujairah have been assigned the task.
Sharjah Indian Association President, EP Johnson, Advocate YA Rahim, KL Gopi, Mahadevan also participated in the meeting. Meanwhile, there is doubt about how to materialise the fund raising target.
Grand Reception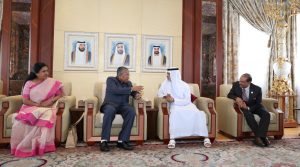 The Chief Minister was accorded with a grand reception with police escort in the UAE. The Minister of Tolerance, His Highness Sheikh Nahyan Bin Mubarak Al Nahyan, His Highness Sheikh Zayed's son and UAE Ruler's brother, His Highness Sheikh Hamdan Bin Saeed Al Nahyan, member of the royal family Sheikh Nahyan bin Saeed Al Nahyan met the Chief Minister, who was happy to directly express his gratitude.
The visit highlighted the influence that prominent Keralite expatriate have in the UAE. The Chief Minister also particularly expressed his gratitude to Norka Vice Chairman, MA Yusuf Ali who made the necessary arrangements and conducted programmes to make the visit a success.
Yusuf Ali being the administrator of nearly eight expatriate organisations was able to ensure cooperation and support from them. The Chief Minister during the meeting with royal family members was able to ensure the help of Khalifa Foundation, Red Crescent and Shiekh Mohammed Bin Rashid Al Maktoum Humanitarian and Charity Foundation for Kerala.
The delegates from these organisations will visit Kerala and deliver the funds after studying conditions in Kerala. This will also help to override the condition from central government to not to receive help from UAE directly.