First-of-its-kind, interactive display is a game changer for businesses and retailers across the region … reports Asian Lite News.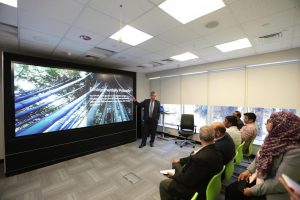 Prysm. Inc., a leading display and visual collaboration solutions provider, today announces the launch of its Laser Phosphor Display (LPD) 6K Series in the Middle East. Prysm's largest interactive, single-panel display will help businesses in the region deliver immersive presentations, host collaborative and interactive work sessions and showcase their retail offerings without compromise. The availability of the LPD 6K in the Middle East builds on the product's global momentum following recent customer deployments in the United States, China and India.
The first LPD 6K display in the region will debut at Prysm's regional distributor – FVC's Innovation Center. Located in Dubai Internet City, the FVC Innovation Center will offer partners and customers the opportunity to experience the brilliance and functionality of the LPD 6K displays, in tandem with complementing AV, and UCC technologies.
Designed on Prysm's patented display technology, the LPD 6K Series defines a new category of interactive large-format single panel displays, with bezel-free viewing above 100 inches and screen sizes available at 190 and 135 inches.
The LPD 6K Series is targeted at customer experience and briefing centers, premium conference rooms, digital signage deployments and large interactive retail spaces. It addresses the challenges associated with other video wall solutions by offering:
• A seamless, bezel-free experience
• A fully interactive touchscreen, often lacking in larger-sized video walls
• Eco-friendly – using less power than a commercial coffee maker
• Exceptional viewing from multiple angles and distances
• Expanded options for installation locations, as the LPD 6K does not require the large amounts of space needed for rear-projection and/or rear service space
• Seamless interaction with applications such as Dropbox, Google Docs and Skype through Prysm Application Suite (PAS)
Commenting on the launch, Mr. Tanvir Osama, vice president EMEA, Prysm said, "The Middle East is on the verge of a massive digital disruption. Our leaders have put ambitious goals and initiatives in place to transform the region into a leading digital economy. With the launch of Prysm's new LPD 6K Series, we will provide enterprises, their employees and their customers with an exceptional user experience that delivers a unique blend of visual integrity and interactivity to inspire new ideas, drive the business forward, and promote working smarter together."
Prysm also announced an expansion of its partnership with FVC to help meet customer demand for the LPD 6K Series. FVC is a leading value added distributor for Prysm in the region and covers key markets for the brand including UAE, Saudi Arabia, and North Africa.
"FVC's partnership with Prysm has been one of remarkable success, where our robust partner network has helped increase Prysm's market presence in target industry segments across the region," said K.S. Parag, managing director, FVC. "As businesses across the Middle East are realizing the potency of visual communication within and outside the organization, we believe the LPD 6K Series will give businesses an edge and fill a tremendous market opportunity for immersive displays in the 100-to 200-inches category. Our aim is to help partners take advantage of FVC's complementary AV solutions to enhance the LPD 6K technology offering in the growing marketplace of experience centers and high-end boardrooms."