,
Danube Properties' Dh2.5 billion Oceanz in Dubai Maritime City, sold out tower one at launch. The new project is taking home buyers to a new cruise and leisure tourism destination that will become the Malibu or Miami of the Middle East once developed in the next few years. Ideal oceanfront location backed with strong investor demand and increased buyers' trust helped Danube Properties to sell out Oceanz project…reports Asian Lite New
Danube Properties' latest project Oceanz has sold out one of the two towers at launch due to growing investor trust in the developer's strong property delivery credentials. The Dh2.5 billion Oceanz project was unveiled at an exclusive launch event where selected investors and home buyers from all over the world snapped up the launched units at the event. Tower one of the two towers with 500+ units has been successfully sold out.
"Real estate business is based on trust that is linked to the credibility of property developers. The sell-out of the Oceanz units at the launch event demonstrates growing public trust and investor confidence in Danube Properties, backed with our strong project implementation and delivery credentials that help buyers and investors to generate extra savings from our homes," Rizwan Sajan, Founder and Chairman of Danube Group, said.
Oceanz extravagant brochure was unveiled by Rizwan Sajan, Founder and Chairman, along with Muhammad Ibrahim, Director of Sales and Property Management – Dubai Maritime City, Abdulla Al Hashmi – COO Of DP World's Parks & Zones, Abdulla Belhoul – CEO of the Department of Planning and Development – Trakhees, Duccio Overi – Executive Director – Formitalia Luxury Group (Exclusive licensee of Tonino Lamborghini Casa, Italy), Anis Sajan, Vice Chairman – Danube Group, Firoz Poonawala, and celebrity host Maniesh Paul.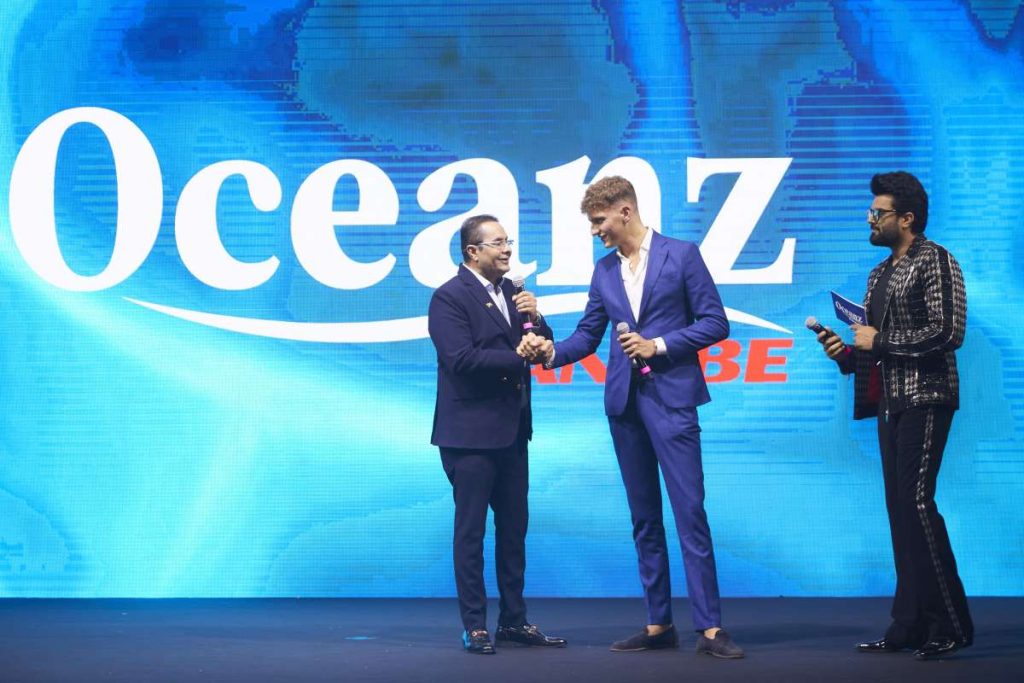 "This is due to our customer-focused development and delivery policy. We launch, sell out, develop, and hand over projects on time and quality. Half of all the projects undertaken so far have been handed over, while customers are still paying their monthly installments while saving on the rent.
"Property buyers and investors could count on higher rental returns and benefit from price appreciation due to the ideal location of Oceanz – DMC. I thank all the home buyers, investors, and brokers who have continued their trust in Danube and we will make sure Oceanz is delivered on time and with the best quality."
Oceanz, once built at the Dubai Maritime City, will offer unlimited views of the magnificent Arabian Gulf and a new leisure and cruise tourism hub next to the historic Shindagha heritage village.
When completed in the first quarter of 2027, Oceanz will rise 51 floors above the ground including a six-level podium filled with car parking and community facilities with 44 floors of residential properties, and deliver 1,250 residential units including studio apartments, 1-bedroom, 2-bedroom and 3-bedroom apartments and a few retail stores. Like most other Danube projects, homes at Oceanz also come with more than 40 community, health and lifestyle amenities including health club, infinity swimming pools, sports arena, tennis court, barbecue area, jogging track, doctor on call, nanny on board among other facilities.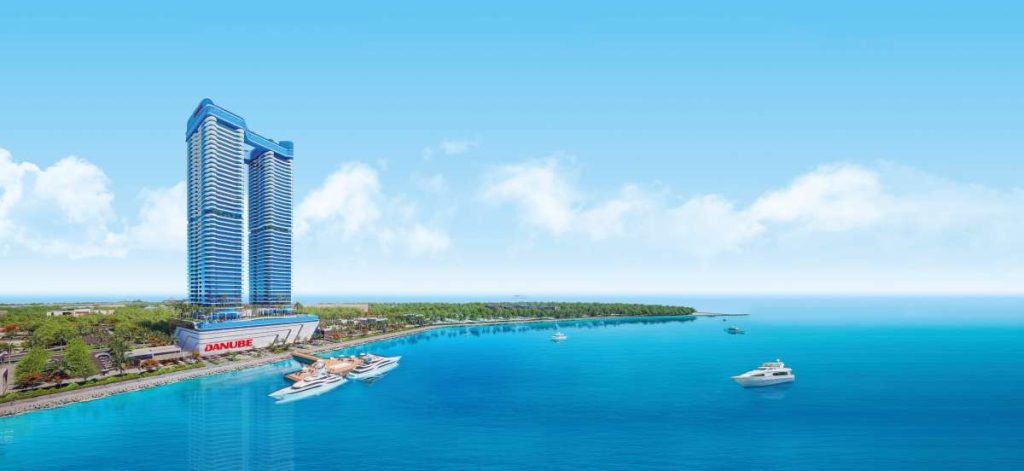 Prices of residential units start from Dh1.1 Million for a studio apartment, making them an attractive proposition for home buyers and investors who could benefit from the continuous price appreciation as the real estate sector is witnessing an increase in demand. Danube Properties' homes come with a trend-setting 1 percent monthly payment plan, following the initial deposits – making home acquisition more affordable and attractive.
Danube Properties maintains a policy of launching one project at a time, selling it out, and then appointing a contractor to build the project, before launching the next one.
In addition to launching projects and building them, Danube Properties will also deliver three projects this year including Wavez (delivered), Jewelz, and Olivz. Most of the projects launched in 2022 and 2023 are ahead of the construction and delivery schedule. The company has recently sold out the Elitz 3 project launched in August 2023.
Oceanz is Danube Properties' 5th project so far this year. Oceanz with Italian Interiors and Luxury Furnishings by Tonino Lamborghini Casa will offer 360-degree panoramic views of the endless ocean every single day.
Apartments within Oceanz will be smart and sustainable homes and will consume less energy – in line with the UAE's commitment to sustainability.
Danube Properties offers homeowners a 10-year Golden Visa – especially those who qualify as per the investment criteria – subject to government approval.
Danube Properties, part of the Danube Group, made its foray into the real estate market in June 2014, by launching the Dh500 million 171 townhouses at Al Furjan. Since then, it continued to expand its development portfolio by launching Glitz Residence I, II, III, Starz, Glamz, Miraclz, Resortz, Bayz, Jewelz, Elz, Lawnz, Wavez, Olivz, Skyz, Pearlz, Gemz, Opalz, Petalz, Elitz I, Viewz, Fashion, Elitz II and Elitz III projects. The company currently has a development portfolio of 13,529 units, with a combined value exceeding Dh 10 billion. It has so far delivered 4989 units.
Advertisements
[soliloquy id="31272"]
Advertisements
[soliloquy id="31269"]