French architect Jean Nouvel, the designer of the Louvre Abu Dhabi, has described the new museum as the world's most important and the most prestigious cultural project of the century.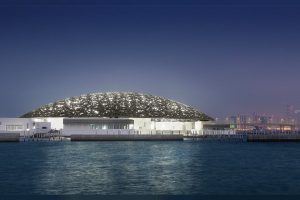 Nouvel said that great effort had been made to ensure that all the artworks and artefacts were presented in a manner that encourages visitors to engage in a rich cultural experience.
Commenting on his experience whilst designing the museum, he said, "Before I agree to take on any architectural project, it is important that I study the location and its surroundings to better understand the project's needs. I am very keen to design unparalleled architectural works by reproducing existing experiences and forms, symbolising unique specificities in each design, bearing the hallmarks of the country's cultural identity."
"The Louvre Abu Dhabi's architectural design is, to me, a symbol of the UAE's renaissance and development," he added.
When comparing the Louvre Abu Dhabi to Musee du Louvre, Jean Nouvel said that the Louvre in Paris has a complex and tangled history.
As a palace of King Louis XIV of France, the Louvre was decreed to become a museum following the French Revolution. The building itself has seen many changes, from the fire damage caused during fighting at the time of the 1871 Paris Commune, to the completion of the Inverted Pyramid project in 1993.
Nouvel explained that these transformations from the historical to the modern are what symbolises the Musee du Louvre and that the Louvre Abu Dhabi, in turn, represents a modern, forward-looking approach to expanding cultural dialogue, while preserving the history of ancient civilisations.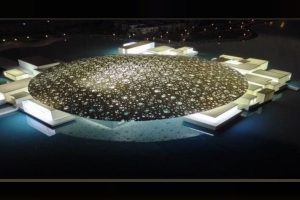 Louvre Abu Dhabi is  first museum of its kind in the Arab region and offers a new perspective on the history of art in a globalised world. It is located on the waterfront in Abu Dhabi's cultural district on Saadiyat Island.
The inaugural installation in its spacious collection galleries will present 600 works of art, half from its own holdings and half consisting of loaned works from its 13 partner museums in France. The museum will also begin an ongoing programme of special exhibitions in December.
Louvre Abu Dhabi is the result of a unique collaboration between Abu Dhabi, the capital of the UAE, and France.
The museum's collection spans the history of humanity and will explore a universal narrative through artworks and artefacts from all over the world. The inaugural installation will take visitors on a chronological journey from prehistory to the present day, encompassing 12 chapters including the birth of the first villages, universal religions, cosmography, the magnificence of the royal court, and the modern world.
Mohamed Al Mubarak, Chairman of the Department of Tourism and Culture Department – Abu Dhabi, and the Tourism Development and Investment Company, TDIC, said: "The UAE is proud of our rich heritage, while also embracing progress and change. We are a dynamic, vibrant and multicultural society, where people live in harmony and tolerance. This diversity is reflected in Louvre Abu Dhabi's collection, which celebrates the innate human fascination with discovery. Each visitor will encounter extraordinary artworks and artefacts from global cultures that are both familiar and surprising. Louvre Abu Dhabi is the UAE's gift to the world, and we look forward to welcoming our first visitors."
Manuel Rabate, Director of Louvre Abu Dhabi, said: "Louvre Abu Dhabi sets a benchmark for the region, attracting the next generation of talented museum professionals. It has reinvented the 18th-century premise of the universal museum for a demanding contemporary audience. In a complex multi-narrative world, these ideas are more important than ever. By exhibiting works from diverse cultures in the same space, our curation shows the interconnectedness of different ideologies, aesthetics and artistic techniques. The museum story transports visitors through a history of humanity illuminated by our collection of exceptional treasures."