HH Mohammed bin Rashid, HH Mohamed bin Zayed and French President Macron open Louvre Abu Dhabi…reports Asian Lite News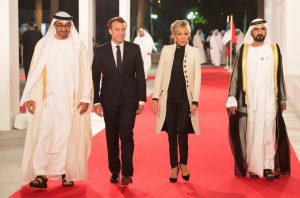 The Vice President, Prime Minister and Ruler of Dubai, His Highness Sheikh Mohammed bin Rashid Al Maktoum, His Highness Sheikh Mohamed bin Zayed Al Nahyan, Crown Prince of Abu Dhabi and Deputy Supreme Commander of the UAE Armed Forces, and President of France Emmanuel Macron, opened this evening the Louvre Abu Dhabi, the first museum to bear the Louvre name outside France.
Designed by French architect Jean Nouvel, the museum contains 23 permanent galleries, special exhibition spaces, a children's museum, an auditorium, restaurants, retail outlets and a research centre. Surrounded by the sea, the buildings are connected by waterfront promenades beneath the museum's stunning dome.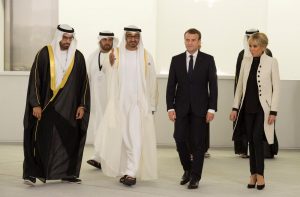 In his speech, President Macron thanked His Highness Sheikh Mohamed bin Zayed Al Nahyan and said he was proud of his friendship.
"The birth of this global cultural landmark in Abu Dhabi is a response to those who seek to destroy the humanity. This marvelous museum displays the different eras of civilisation," he said.
The French President said he was impressed with the examples the UAE has been giving to the world.
"The UAE is a crossroads connecting East and the West a melting pot for various cultures and a closest friend to Europe. It has skillfully maintained a delicate balance in its relations with the European, African and Asian continents," he added.
Macron also praised the wise UAE policy and its positions, while located in a volatile region.
"The UAE gives us a success story in many faces. The country also succeeded in facing many challenges, including the climate change."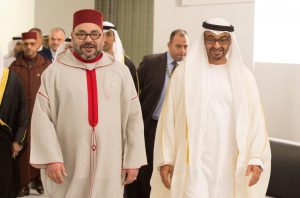 Addressing His Highness Sheikh Mohamed bin Zayed Al Nahyan, he said: "Allow me Your Highness to tell you that France will always be at your side in confronting all challenges and will continuously support you."
President Macron expressed his pleasure and the happiness of the French government and people over the birth of this colossal cultural and civilisational project in the UAE."It means a lot to France as well as to the UAE – our strategic and cultural partner." The French head of state reiterated his country's support for the resolutions taken by UAE which he called "brave".
"This museum is a fruit of a longstanding co-operation between our countries which saw light in 2007," Macron said.
"It is a fruit of a wise and insightful vision of His Highness Sheikh Mohamed bin Zayed Al Nahyan, Crown Prince of Abu Dhabi and Deputy Supreme Commander of the UAE Armed Forces, which he inspired from the wisdom and vision of his father, the late Sheikh Zayed," he added.
The French President affirmed that the UAE and France wanted – through the launch of the Louvre Abu Dhabi – to send a joint world powerful message about their rich culture.
In attendance were King Mohammed VI of Morocco, King Hamad bin Isa Al Khalifa of Bahrain, President Mohammed Ashraf Ghani of Afghanistan, and a host of guests representing several brotherly and friendly countries.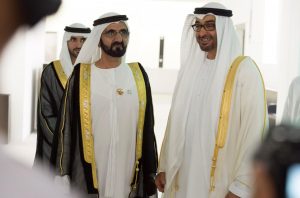 Meanwhile, Noura Al Kaabi,  the Minister of Culture and Knowledge Development, said the new Louvre Abu Dhabi museum will become "an iconic image."
In a series of tweets following the opening, Al Kaabi described the museum as "a true example of how culture can bridge the histories and stories of two different nations."
Noting that its 180 metre wide dome by prize-winning architect Jean Nouvel is set to become "an iconic image of Abu Dhabi and its cultural scene," she added that the museum "brings together cultures and civilisations bridging East and West."
Describing herself as having been "honoured to be a part of this momentous occasion," Al Kaabi said that the 10-year journey from conception to opening "reiterates Abu Dhabi's commitment to culture and development, placing the UAE as a regional leader.