VP, Crown Prince of Abu Dhabi exchange New Year greetings, accentuate values of citizenship, loyalty to homeland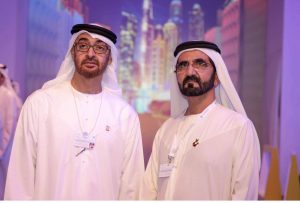 The Vice President, Prime Minister and Ruler of Dubai, His Highness Sheikh Mohammed bin Rashid Al Maktoum and His Highness Sheikh Mohamed bin Zayed Al Nahyan, Crown Prince of Abu Dhabi and Deputy Supreme Commander of the UAE Armed Forces, have met over a lunch banquet in Dubai marking the advent of the new year, one of the hallmarks of which will be the philanthropic noble legacy left by the nation's founder, late Sheikh Zayed bin Sultan Al Nahyan.
Attending the banquet as well were H.H. Sheikh Hamdan bin Mohammed bin Rashid Al Maktoum, Crown Prince of Dubai and Chairman of Dubai Executive Council, H.H. Sheikh Mansour bin Zayed Al Nahyan, Deputy Prime Minister and Minister of Presidential Affairs and H.H. Sheikh Diab bin Mohamed bin Zayed Al Nahyan, Chairman of the Department of Transport, Abu Dhabi.
Their Highnesses Sheikh Mohammed bin Rashid and Sheikh Mohamed bin Zayed exchanged greetings over the new year which has been declared 'Year of Zayed' by President His Highness Sheikh Khalifa bin Zayed Al Nahyan to serve as a symbol of the values of giving and tolerance cherished by the United Arab Emirates since its establishment.
They congratulated the people of the UAE, wishing all segments of Emirati society as well as all the peoples of the world sustained successes and prosperity.
The meeting occasioned a review of a number of topics relevant to the drive of giving championed by the UAE across its history, with Their Highnesses the Vice President and the Crown Prince of Abu Dhabi accentuating the importance of continuing the drive of transformational development across all domains of life in the country, empowering the UAE nationals, and inculcating values of citizenship and loyalty to the homeland.
Attending the banquet as well were Ali bin Hammad Al Shamsi, Deputy Secretary-General of the Supreme National Security Council, and Khalifa Saeed Sulaiman, Director General of the Department of Protocol and Hospitality in Dubai.