National Petroleum Construction Company, NPCC, has expanded its operations in Hyderabad … reports Asian Lite News.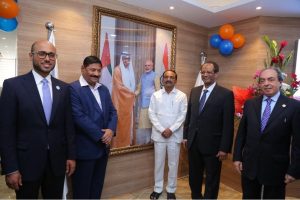 National Petroleum Construction Company, NPCC, part of Senaat Abu Dhabi, has expanded its operations in Hyderabad by creating a new office that employs over 450 people.
The 40,000 Sq Ft Hyderabad Engineering Office will work with Abu Dhabi, Mumbai and La Ciota Engineering Offices in executing global projects in the energy sector. The company will run its Design Engineering operations, ANEWA, in Hyderabad through its wholly owned NPCC Engineering Limited, NEL, in Mumbai. Both these NPCC subsidiaries are Centre of Excellence in Design and Engineering. NPCC has a long history of working in India with ONGC and other major petroleum companies, serving the Indian oil & gas industry for over 35 years.
Aqeel Madhi, Vice Chairman & MD of NPCC, said, "We are excited to deliver cost-effective, efficient and flexible services through Hyderabad office to our customers. To successfully operate in today's market, we must be able to efficiently provide services to our customers that enhance efficiencies and reduces customers cost, while operating at the highest quality standards."
Ahmed Al Dhaheri, CEO of NPCC, said, "We are focusing on enhancing our Engineering capabilities, and are investing in UAE and India. We have had Engineering presence in India for 10 years and are growing it further."
Etela Rajendar, Telangana State Minister for Finance & Planning, inaugurated the Hyderabad office and said, "Hyderabad is attracting investments from several companies from across the globe across industry verticals. The State which has not only topped the nation in ease of doing business has been able to provide round the clock utilities to the industry. For companies that want to set up base in Hyderabad and expand their operations, the city offers the best skilled manpower."
NPCC, a leading international EPC contractor, provides Engineering, Procurement, Construction, Installation and Commissioning services to Offshore and Onshore Oil & Gas sectors, and is headquartered in Abu Dhabi with offices around the region. It was founded in Abu Dhabi in 1973. SENAAT, representing the government of Abu Dhabi, owns 70% and Consolidated Contractors Company, CCC, owns 30%.