Sharjah Ruler attends University of Sharjah's graduation ceremony … reports Asian Lite News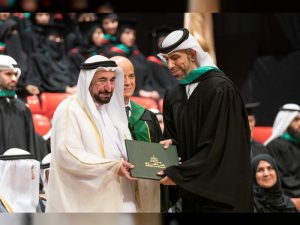 H.H. Dr. Sheikh Sultan bin Muhammad Al Qasimi, Supreme Council Member and Ruler of Sharjah, and President of the University of Sharjah (UoS), affirmed that the students are the pillar and foundation of the University of Sharjah for whom the university exploits all its potential and energies to build them scientifically and behaviourally.
Sheikh Sultan's remarks came in a speech he delivered on Saturday at the graduation ceremony of 249 students of the university's higher studies held at the University City Hall in the presence of Sheikh Sultan bin Mohammed bin Sultan Al Qasimi, Crown Prince and Deputy Ruler of Sharjah.
The Ruler of Sharjah congratulated the graduates and said, "We are proud of this cohort and we would like to congratulate you, the students; your families and the governmental and private entities that you come from. We also congratulate ourselves on these fruits of labour that we are harvesting today. We have all the faith in you and we are assured that you will use the knowledge and expertise that you gained during your studies to better serve this nation."
Highlighting the future plans for UoS, Sheikh Sultan said, "We are happy to announce that the number of approved higher studies will raise as of September to over 50 Masters and PhD programmes in various medical, health, engineering, scientific and humanities disciplines."
Concluding his speech, Sharjah Ruler noted, "Once again, I congratulate you and your parents on your success. I wish you success in your career. I thank the efforts of the University of Sharjah and its teaching staff who have efficiently and ably helped you improve your qualifications and prepared you to meet the requirements of this life."
At the end of the ceremony, Sheikh Sultan presented certificates to the 249 graduates, wishing them a bright future.
The graduation ceremony was attended by Dr. Abdul Rahman bin Mohammad bin Nasser Al Owais, Minister of Health and Prevention; Rashid Ahmed bin Al Sheikh, Chief of the Sharjah Emiri Court; Abdallah Sultan Al Owais, Chairman of the Sharjah Chamber of Commerce and Industry; Major General Saif Al Zari Al Shamsi, Sharjah Police Commander-in-chief; Abdullah Mohammed Al Owais, Chairman of Sharjah Culture Department; Ali Salem Al Midfa, Chairman of Sharjah International Airport Authority; Mohammed Obaid Al Zaabi, Head of Protocol and Hospitality Department; Salem Yousif Al Qaseer, Chairman of Sharjah Standards Development Authority; members of the Board of Trustees of the university and its administrative and teaching faculties; a host of parents and relatives of graduates and media representatives.