UAE hospitality industry saves 1.5 million meals from going to waste in 2018 … reports Asian Lite News.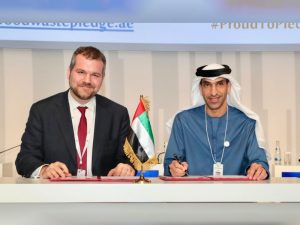 The UAE hospitality and food service sector has saved 1.5 million meals from the bin in 2018 as part of the UAE food waste pledge, said Dr. Thani bin Ahmed Al Zeyoudi, Minister of Climate Change and Environment.
The announcement was made on the sidelines of Abu Dhabi Sustainability Week 2019, in the presence of H.H. Sheikh Zayed bin Sultan bin Khalifa Al Nahyan.
The Ministry of Climate Change and Environment, MOCCAE, launched the initiative in May 2018 in partnership with Winnow, a UK-based startup that develops technology used by a growing number of organisations to eliminate food waste in their operations. The pledge challenged companies to save one million meals from going to waste in 2018, raising the target to two million in 2019 and three million in 2020.
The initiative supports the UAE's commitment to halving food waste by 2030 in line with the global target to reduce food loss and waste by 50 percent by 2030 as per the United Nations Sustainable Development Goal 12: Responsible Production and Consumption.
Dr. Al Zeyoudi explained that the ministry is working closely with local authorities and the private sector, as well as food waste solutions companies, such as Winnow, to minimise food waste throughout the production and consumption cycle, and to raise awareness about the adverse impact of food waste on the economy and the environment.
"In addition to the excessive expenditure incurred in putting surplus food on the table, the tons of wasted food tossed into landfills every year pose a grave threat to the health of our ecosystem. We encourage citizens and residents of the UAE to play their part through reducing the amount of food they waste and educating people around them to do the same. This will enable our next generations to enjoy a more prosperous future," he added.
Early adopters, including Majid Al Futtaim, Rotana Hotels and Resorts, Emaar, AccorHotels, A.A. Al Moosa Enterprises and ADNH Compass, were joined by 15 additional companies in October 2018. Collectively, they surpassed the set target and reduced their environmental footprint.
The UAE Minister commended the UAE hospitality and food service sector for being one of the few in the world to take a decisive step and accept the challenge of reducing food waste in their kitchens.
To take the UAE food waste pledge to the next level, MOCCAE launched an online platform for the initiative. Businesses can sign up for this mission via www.foodwastepledge.ae.