PROF NADEY HAKIM is numero uno in the medical field as a transplant surgeon. There are many records on his credit. He started the first Pancreas Transplant Programme in southeast England and pioneered the finger-assisted nephrectomy technique for streamlining kidney transplants. He was the British Surgeon on the International team which performed the world's first successful arm transplant and was the first surgeon to be awarded the prestigious Max Thorek Professorship of Surgery.
Professor Hakim gained his medical doctorate from Paris Descartes University and trained surgically at Guy's Hospital. At the University of London, he obtained his Ph.D. before completing a Gastrointestinal Fellowship at the Mayo Clinic and a Transplant Fellowship at the University of Minnesota. He is also the Imperial College President's Envoy and Professor of General Surgery at The Cleveland Clinic London. With over 200 peer-reviewed papers and 24 books, he is also a prolific author and sought-after international speaker. But this consultant general and transplant surgeon has another avatar after his hospital hours. He is a renowned portrait sculptor in the London art circuit. Asian Lite's Anasudhin Azeez meets Prof. Hakim. Excerpts:
Why do you want to make a bust of Ukraine President Volodymyr Zelensky?
I was horrified to see the pictures of civilians becoming more desperate amid scenes of destruction and despair. So it came to my mind to do the sculpture of President Zelensky to auction it and make some money to support humanitarian relief in Ukraine.
What is your take on other conflicts in the world, especially in the Middle East?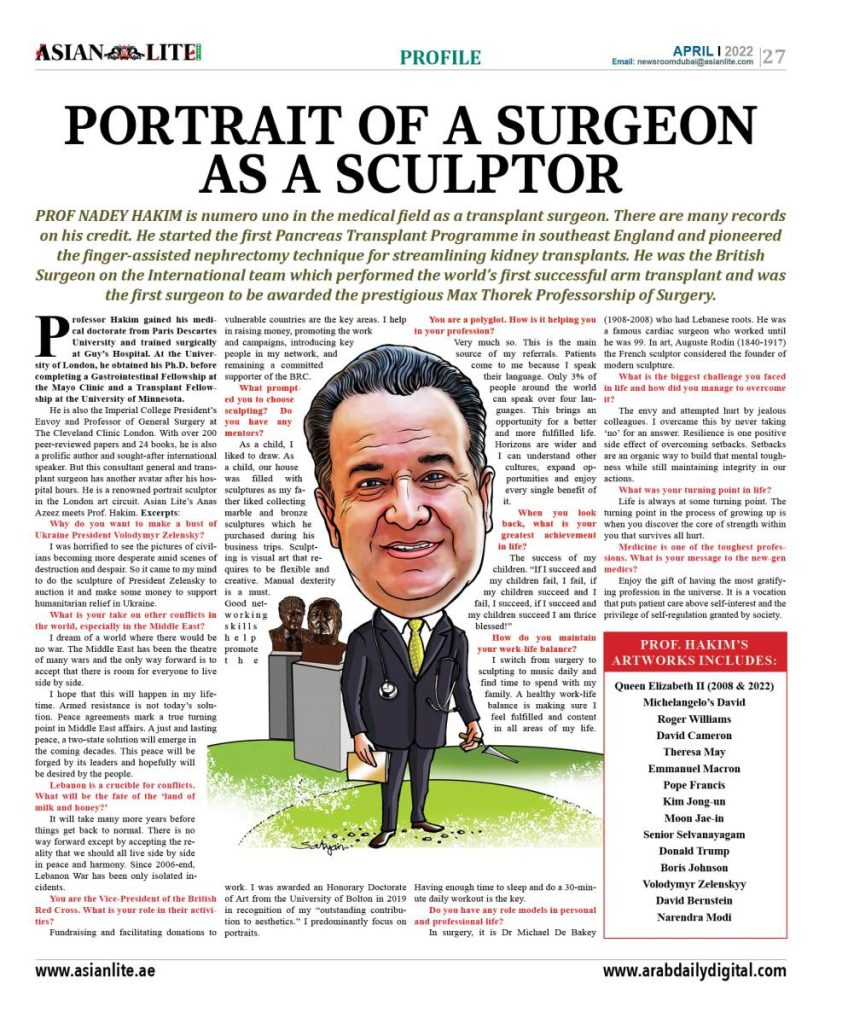 I dream of a world where there would be no war. The Middle East has been the theatre of many wars and the only way forward is to accept that there is room for everyone to live side by side. I hope that this will happen in my lifetime. Armed resistance is not today's solution. Peace agreements mark a true turning point in Middle East affairs. A just and lasting peace, a two-state solution will emerge in the coming decades. This peace will be forged by its leaders and hopefully will be desired by the people.
Lebanon is a crucible for conflicts. What will be the fate of the 'land of milk and honey?'
It will take many more years before things get back to normal. There is no way forward except by accepting the reality that we should all live side by side in peace and harmony. Since 2006-end, Lebanon War has been only isolated incidents.
You are the Vice-President of the British Red Cross. What is your role in their activities?
Fundraising and facilitating donations to vulnerable countries are the key areas. I help in raising money, promoting the work and campaigns, introducing key people in my network, and remaining a committed supporter of the BRC.
What prompted you to choose sculpting? Do you have any mentors?
As a child, I liked to draw. As a child, our house was filled with sculptures as my father liked collecting marble and bronze sculptures which he purchased during his business trips. Sculpting is visual art that requires to be flexible and creative. Manual dexterity is a must. Good networking skills help promote the work. I was awarded an Honorary Doctorate of Art from the University of Bolton in 2019 in recognition of my "outstanding contribution to aesthetics." I predominantly focus on portraits.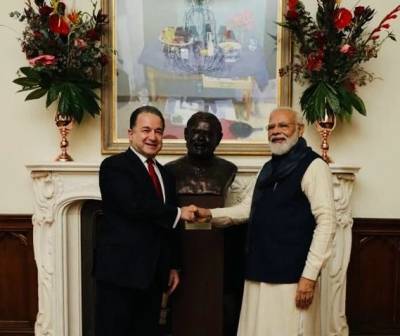 You are a polyglot. How is it helping you in your profession?
Very much so. This is the main source of my referrals. Patients come to me because I speak their language. Only 3% of people around the world can speak over four languages. This brings an opportunity for a better and more fulfilled life. Horizons are wider and I can understand other cultures, expand opportunities and enjoy every single benefit of it.
When you look back, what is your greatest achievement in life?
The success of my children. "If I succeed and my children fail, I fail, if my children succeed and I fail, I succeed, if I succeed and my children succeed I am thrice blessed!"
How do you maintain your work-life balance?
I switch from surgery to sculpting to music daily and find time to spend with my family. A healthy work-life balance is making sure I feel fulfilled and content in all areas of my life. Having enough time to sleep and do a 30-minute daily workout is the key.
Do you have any role models in personal and professional life?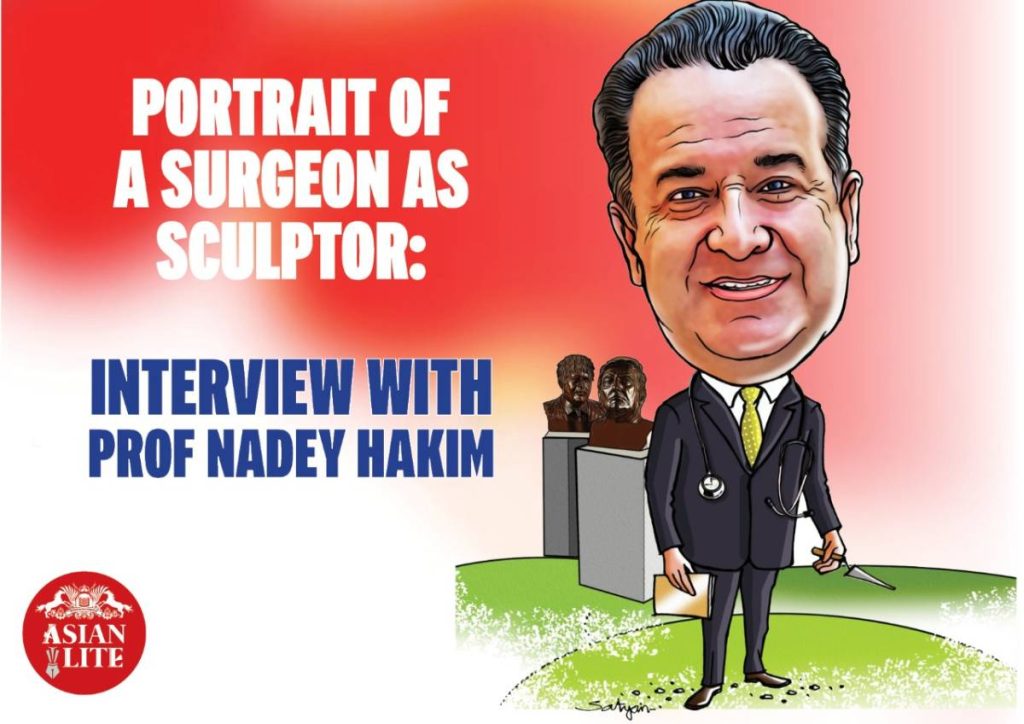 In surgery, it is Dr Michael De Bakey (1908-2008) who had Lebanese roots. He was a famous cardiac surgeon who worked until he was 99. In art, Auguste Rodin (1840-1917) the French sculptor considered the founder of modern sculpture.
What is the biggest challenge you faced in life and how did you manage to overcome it?
The envy and attempted hurt by jealous colleagues. I overcame this by never taking 'no' for an answer. Resilience is one positive side effect of overcoming setbacks. Setbacks are an organic way to build that mental toughness while still maintaining integrity in our actions.
What was your turning point in life?
Life is always at some turning point. The turning point in the process of growing up is when you discover the core of strength within you that survives all hurt.
Medicine is one of the toughest professions. What is your message to the new-gen medics?
Enjoy the gift of having the most gratifying profession in the universe. It is a vocation that puts patient care above self-interest and the privilege of self-regulation granted by society.
Prof. Hakim's artwork includes:
Queen Elizabeth II in 2013
Michelangelo's David
Roger Williams
David Cameron
Theresa May
Emmanuel Macron
Pope Francis
Kim Jong-un
Moon Jae-in
Senior Selvanayagam
Donald Trump
Boris Johnson
Volodymyr Zelenskyy
David Bernstein
Narendra Modi
Advertisements
[soliloquy id="31272"]
Advertisements
[soliloquy id="31269"]