Just be comfortable, I think comfort is something that's so underrated and I think we do a lot of things for fashion but I think it's very important to be comfortable in which you carry yourself better…says Sonakshi Sinha
A repertoire in glamourous modernity, ITRH danced its way into hearts with its bold and free spirited collection 'Dancing Queen' at the ongoing Lakme Fashion Week x FDCI. An extension of its first disco collection which was a tribute to the original disco king Bappi Lahiri, Dancing Queen revisits the brand's world of being extra yet chic!

Disco has always been a place where people embrace their inner glamazons and free spirits, it's a place of utter disregard for societal norms towards sexuality, gender, and appropriation. It's about breaking all the rules and rewriting them every time the beat changes. Keeping in tune with disco which has become inherent with the brand's philosophy, ITRH aims at modernising disco for today's generation through Dancing Queen.

"We are the late 80s' babies, so disco has been an integral part of our growing years. Our first disco collection was a tribute to the original disco king Bappi Lahiri and we had the privilege to work with him in our campaign. Dancing Queen is an extension of it. We are modernising disco for today's generation – being extra yet chic," says Mohit Rai, Creative Director, ITRH.

Sonakshi Sinha was showstopper for the brand and took out a minute to speaking with IANSlife about her fashion preferences:

What did you love about your make-up, look and outfit?

Sonakshi: What not to love about it, I am feeling so special right now because I am shining, shimmering and collection is super fun as Mohit knows what's look good on me as he is styling for the longest time and I am in love with it.

What one fashion accessory do you have in your bag right now which you can't do without it?

Sonakshi: Flats, because once you are done with the heels just jump into flats.

What's the best part about being a show stopper?

Sonakshi: The best part is all the attention, it's very nice to put an end to the show where everybody is lively in a good mood, specially today, I think everybody out here came for ITRH as it's a brand and it's amazing how people conduct for him so everybody was enjoying and I was told to have a good time and that's what exactly I get.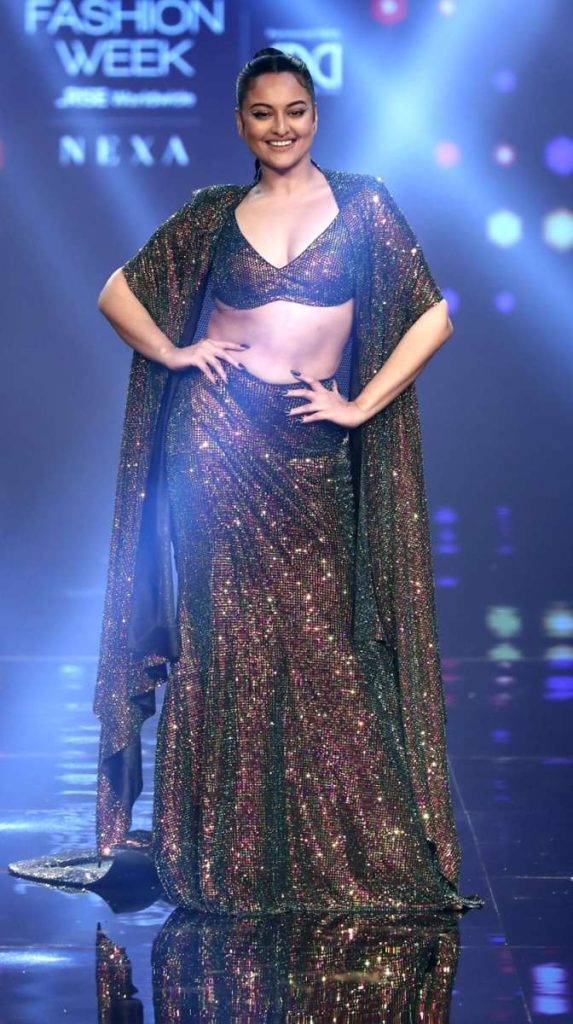 One style tip for women out there?

Sonakshi: Just be comfortable, I think comfort is something that's so underrated and I think we do a lot of things for fashion but I think it's very important to be comfortable in which you carry yourself better.

The skincare that you use daily?

Sonakshi: The moisturiser, because it's very important to keep yourself hydrated.

What do you love about your outfit that you are currently wearing?

Sonakshi: I love the colours, I love the way it shines in the light and takes on different colours that's what I like about it.

Share one bizarre thought you had before or while walking the ramp?

Sonakshi: While walking the ramp, actually thought my trail was very long so I thought when everybody else also comes on stage at the end, I just hope that nobody steps on it.

What's one thing that people think about celebrities which is not true?

Sonakshi: There are lot of assumptions for celebrities out there to name a few like she has so much attitude, they don't talk to people on their own, their managers do all the talking for them and there are too many to list but when you meet the celebrities I guess lot of people say that "you are not like how we thought you are."
ALSO READ-Fashion industry, the greatest contributor to greenhouse gases
Advertisements
[soliloquy id="31272"]
Advertisements
[soliloquy id="31269"]