During the talks, the two sides highlighted their joint commitment to combating extremism and confronting the threats in Middle East…reports Asian Lite News
UAE Foreign Minister Sheikh Abdullah bin Zayed Al Nahyan on Tuesday met with his US counterpart Antony Blinken in Washington.
They discussed ways to further broaden and deepen the strong US-UAE partnership, and cooperation in the fields of security, climate, trade exchange and investment.
During the talks, the two sides highlighted their joint commitment to combating extremism and confronting the threats facing the two sides in the Middle East region, and continuing to work to promote the Abraham Accords.
The two senior officials reviewed the continuous efforts to provide the necessary humanitarian assistance to those affected by the earthquakes that hit Türkiye and Syria.
Sheikh Abdullah reiterated the UAE's firm commitment to addressing the effects of climate change, as well as cooperation on many bilateral initiatives aimed at facilitating the smooth transition to renewable energy sources and increasing investments in climate-adapted agriculture and food systems.
In this regard, Sheikh Abdullah pointed to the "Partnership for Accelerating Clean Energy" (PACE) initiative launched by the UAE and the US in November 2022, which will catalyse US$100 billion in financing and other support in addition to deploying 100 new gigawatts (GW) of clean energy in the US, UAE and emerging economies around the world by 2035.
He referred to the UAE's hosting of the 28th Conference of the Parties to the UN Framework Convention on Climate Change (COP28) in November 2023, and stated that climate change has a great impact on the UAE and that the country is going through a major energy transition.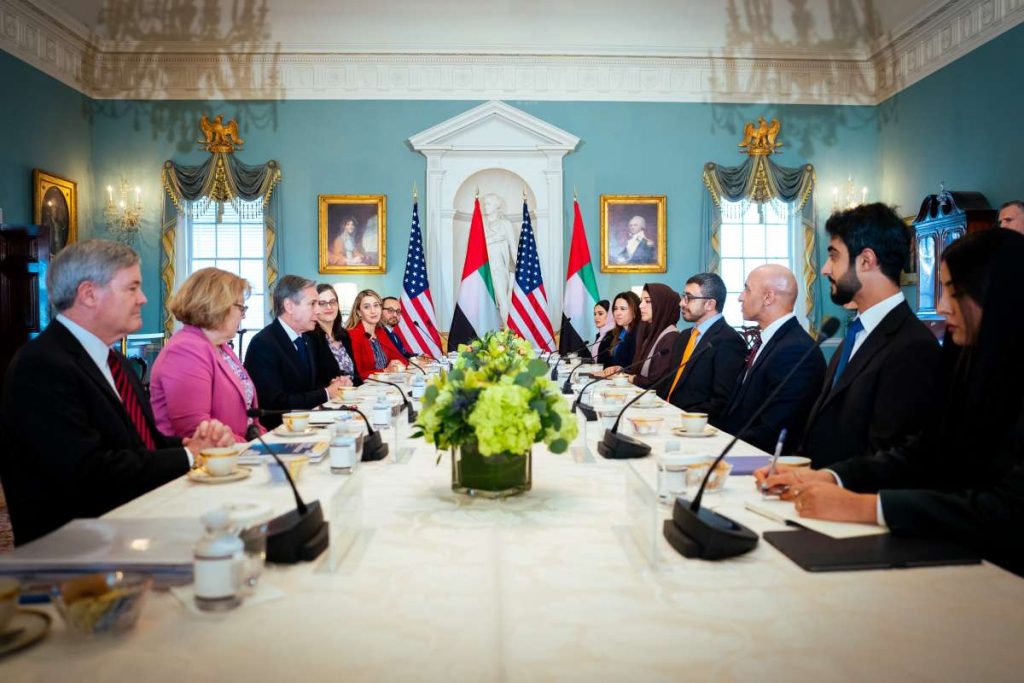 His Highness Sheikh Abdullah stated, "We understand the urgent need for ambitious action with the US and other partners to address climate change and facilitate a smooth transition to a near-carbon-neutral world in the future."
On the other hand, the UAE Foreign Minister held meetings with members of the Senate, Bob Menendez, Chairman of the Senate Foreign Relations Committee; Jim Risch, Vice Chairman of the Committee; Senator Todd Young.
The meetings dealt with ways to strengthen economic relations between the UAE and the US, as well as to promote investments and trade exchange between the two countries.
The UAE is the largest market for US exports in the Middle East. The volume of trade exchange between the two countries in 2022 amounted to US$27.8 billion, as the volume of UAE exports to the United States exceeded US$6.9 billion, an increase of 16 percent over the volume of the country's exports in the previous year.
The meetings were attended by Reem bint Ibrahim Al Hashemy, Minister of State for International Cooperation; Ambassador Lana Zaki Nusseibeh, Assistant Minister of Foreign Affairs and International Cooperation for Political Affairs and the UAE Permanent Representative to the United Nations; and Yousef Manea Al Otaiba, the UAE Ambassador to the United States.
Advertisements
[soliloquy id="31272"]
Advertisements
[soliloquy id="31269"]