Valentine's Day is just around the corner, and while there are lots of things you can plan on doing for your special someone on the occasion, making something for them from scratch would be really sweet and romantic. We have compiled a list of really yummy desserts that you can bake for your Valentine this year. Take a look:
Vanilla Cake with Strawberry Compote
Recipe by: Sous Chef Sasha Wadhwa – Pastry & Bakery, Couche Patisserie
PREP TIME: 40 MINS
Cooking: 2-3 hours
SERVINGS- 3
CALORIES 298
FATS 20
Ingredients for Vanilla Sponge Cake (6-inch pan):
100 gms Maida
1/2 tsp Baking Powder
140 gms Thick Curd
1/2 tsp Baking Soda
80 gms Caster Sugar
50 gms oil
1/2 tsp Vanilla Extract
Baking Time – 25-30 minutes
Baking Temperature – 150°C
Method:
1. Preheat oven to 150°C
2. Mix the baking soda and curd well and set aside.
3. Whisk oil and caster sugar until well combined.
4. Add in vanilla and curd + baking soda mixture and whisk until it comes together.
5. Sift in the maida and baking powder and fold gently with a spatula until the batter looks well combined and no flour pockets are visible.Vanilla Cake with Strawberry Compote
6. Pour into a greased pan and bake for 25-30 minutes, or until a skewer inserted to check doneness comes out clean.
Ingredients for Strawberry Compote:
80 gms diced Strawberries (1)
160 gms chopped Strawberries (2)
3 tbsp/45 gmsCaster Sugar
1/4 Lemon
1/2 tsp Vanilla Extract (optional)
Method:
1. Add 80 gms of diced strawberries to a pan with the caster sugar. On a Valentine's Day Recipe: 3 desserts you can make for your special someone!
2. When the mixture has thickened up (about 10-15 minutes), switch off the flame and set aside. Let it cool.
3. Add the chopped strawberries to the cooked strawberry compote, along with the lemon juice and vanilla, and mix to combine. Refrigerate until required.
Slice the vanilla sponge cake and serve with a side of strawberry compote and whipped cream.
Serving suggestion – You can also make a layered cake by slicing the cake in half horizontally and layering it with strawberry compote and whipped cream. Cover the sides and top with whipped cream and garnish with fresh strawberries.

Blueberry & Blue Matcha Cup Cake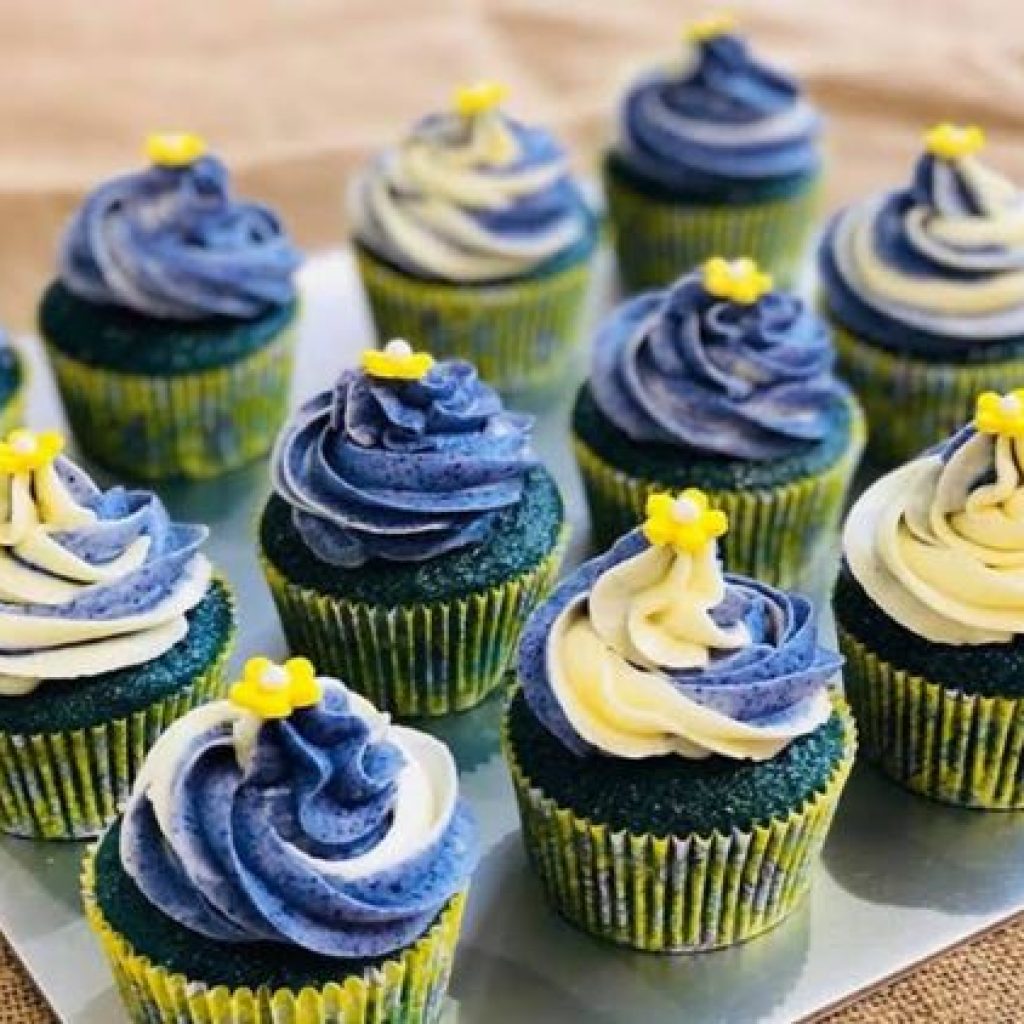 Recipe by: Group Pastry Chef Balwinder Singh – Centre Point Hotel, Nagpur
PREP: 40 MINS
Cooking: 1 hour
SERVINGS- 4
CALORIES 100
FATS 10
Ingredients
Cup Cake Batter:
50gm Butter
50gm Castor sugar
1no Egg
50gm Flour
0.02gm Baking Powder
0.05gm Blue Tea Matcha Powder
0.1gm Blueberry Filling
For topping:
20gm Whip cream
2gm Blue Tea Matcha Powder
5gm Milk Maid
2no Fresh Blueberries
Sugar Sprinklers for Garnish
Method:
1. Weight all the above ingredients and cream butter and castor sugar, whisk them together.
2. Now add eggs and mix them well till all lumps smoothen properly.
3. Now add all dry ingredients and blueberry filling and mix till all ingredients may make a smooth Batter.
4. Reheat oven to 180 degrees C and bake the mixture by pouring in cupcake molds for about 12-15 min.
5. For topping take whip cream add milk maid and blue matcha powder and make smooth blue cream.
6. Now cool the cupcake for an hour. Now put the prepared topping cream in a piping bag and pipe the cream with a star nozzle on top of the cupcake as you desire. Now garnish with blueberries and sugar sprinklers.
Classic vanilla and strawberry cake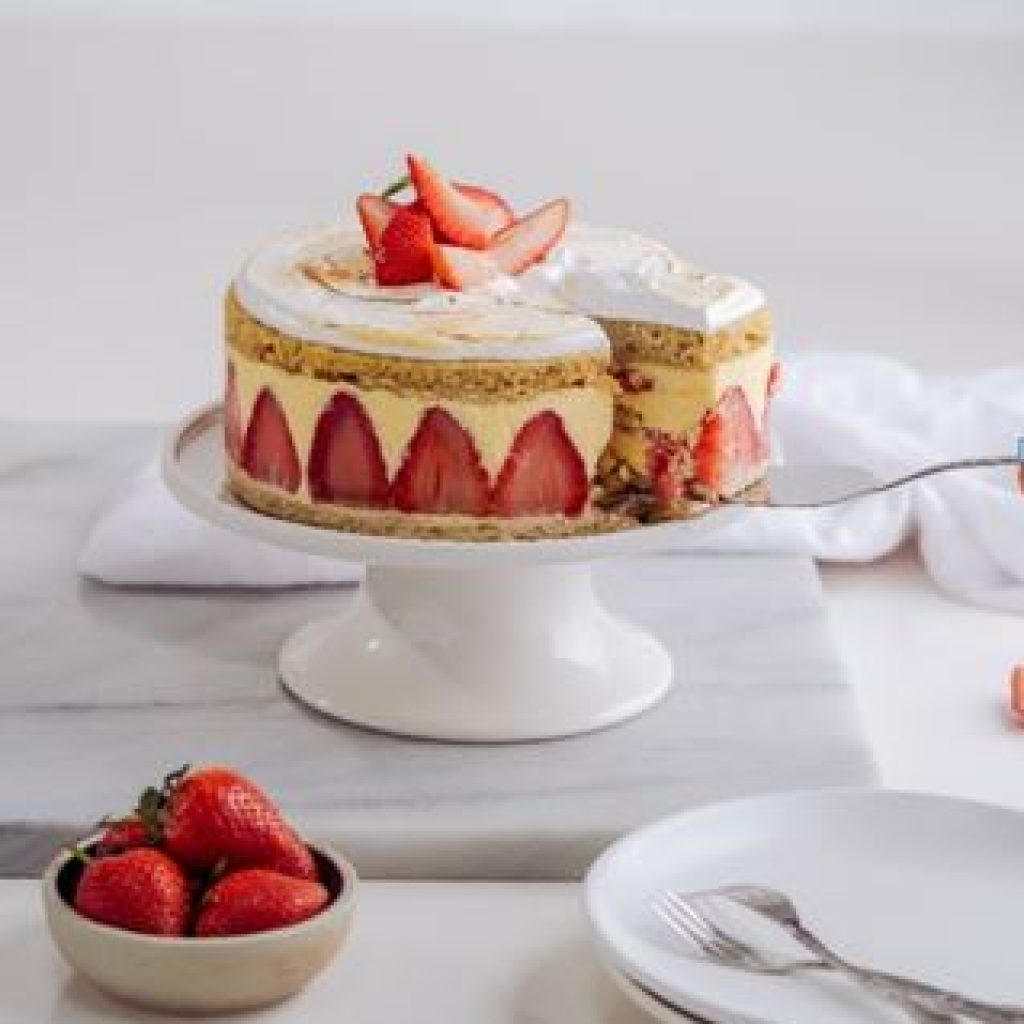 Recipe by: Chef Akash Khandelwal, Sous Chef – Pastry & Bakery, Welcomhotel Sheraton New Delhi
PREP: 60 MINS
Cooking: 2-3 hours
SERVINGS- 3
CALORIES 355
FATS 32
CHOLESTEROL-0.283
Sponge cake:
3 eggs with vanilla essence
90g sugar
90g flour
30g unsalted butter, melted
For the syrup:
200ML cane sugar syrup (50gm sugar and 150ml hot water)
For the strawberry mousse:
3 gelatin sheets
370ml whipping cream (up to 40 per cent fat)
250g strawberries
50g sugar
For the garnish:
250g fresh strawberries
Method
Sponge cake:
Whisk eggs with sugar until light & fluffy, slowly fold in the flour. Add the melted butter at the last and bake at 180c for 15 mins in a heart-shaped tin.
Strawberry mousse:
Soak the gelatin in ice-cold water. Take the strawberries in a pan and sugar. Cook slowly and create a preserve-like structure. Add the soaked gelatin to the compote. Whip the cream until soft and fluffy. Fold the cream in the compote. Creating a strawberry mousse. Chill in a refrigerator.
Assembling:
Take a heart shape ring and arrange strawberries on the corners. Take the sponge and apply sugar syrup using a brush. Pipe the strawberry mousse using a star nozzle and put 1/2 strawberries in an arrangement. Creating an aesthetic look. (ANI)
ALSO READ-Yoga for working women and hectic life
Advertisements
[soliloquy id="31272"]
Advertisements
[soliloquy id="31269"]