According to some studies, about 100 crore people have connected to the Mann Ki Baat at least once…reports Asian Lite News
The Prime Minister Narendra Modi's 'Mann Ki Baat' created history with 100th episode on April 30. It is a unique form of communication between the Head of the State with public to share collective aspirations, wisdom and experience to find ways to solve the problems facing the country and bettering the lot of people, society and nation.
The programme had been initiated on October 3, 2014. Since then, the outreach and influence of the programme increased. The programme is broadcast in 22 Indian languages and 29 dialects and 11 foreign languages including French, Chinese, Indonesian, Tibetan, Burmese, Baluchi, Arabic, Pashtu, Persian, Dari and Swahili by more than 500 broadcast centres of the All India Radio.
It is time now to review the purpose and achievements of the programme. Some of the achievements are simply staggering. According to some studies, about 100 crore people have connected to the Mann Ki Baat at least once.
It is also one of the few exemplary programmes which is based on a conversation with people about their dreams, aspirations, setbacks and concerns and the possible way out. By talking about grass root change makers and successes and achievements of very ordinary people, Mann Ki Baat has also highlighted the importance of positive action and inspired many for the same.
The programme has upheld and furthered tradition of effective communication of the government head with "we the people". The overbearance of the people of India during demonetization move and compliance of people in India to strict Covid norms and restrictions followed by their readiness to adopt vaccination are the outstanding examples of effectiveness of such communication.
Earlier, a former Prime Minister of India, Lal Bahadur Shastri's Jai Jawan Jai Kisan slogan and a call for maintaining one time fasting to feed the famine affected compatriots in the late Nineteen Sixties was one such occasion in the living memory when people took the communication so seriously.
At an intellectual plain, it is important to analyse the myths about the Mann Ki Baat. Some people describe Mann Ki Baat as a platform and mechanism to publicize Prime Minister's views and rhetoric and make his presence felt on certain frequencies among the people. It is seen more as part of electoral mobilisation and publicity of government's programmes and achievements.
Practically viewed there is no problem in all these objectives of Mann Ki Baat, if such allegations are taken to be true as long as there are no ethical and constitutional issues. But if a little rational approach is taken, it is always desirable to have mechanisms for communication and conversation of leaders with the people. It could be seen as one of the finest ways to ensure this.
James A. Winans, one of the first modern speech teachers and an advocate for teaching communication in higher education, said there were "two motives for learning to speak. Increasing one's chance to succeed and increasing one's power to serve." The Prime Minister of India is adept in both kinds of communication but Mann Ki Baat, falls in the second category.
Narendra Modi may not be a great orator, but he is a communicator par excellence. When he speaks, he connects with public to the level that they are not only convinced and stirred emotionally to work towards unleashing their own potentials but also inspired to become an agent of change and progress and give back to society and nation.
The beauty of Mann Ki Baat lies in the fact that before it is shared with public on various media platforms, it begins with an intrapersonal communication, a kind of internal vocalization or reflective thinking and talking to oneself. Intrapersonal communication helps build and maintain our self-concept.
We form an understanding of who we are based on how other people communicate with us and how we process that communication intrapersonally. This particular attribute differentiates the ordinary people from the extraordinary since ages and at list noticeably in two great Indians Lord Buddha and Mahatma Gandhi. The semblance of the same could be very well traced in the Mann Ki Baat.
The intrapersonal communication later becomes a public communication. Public communication, nevertheless, a sender-focused form of communication in which one person is typically responsible for conveying information to an audience.
But in Mann Ki Baat, it becomes truly public communication when the audience also participates in it through a mechanism. When the Prime Minister solicits suggestions before the episodes of Mann Ki Baat about what people think should be covered, the communication becomes two-way. Suggestions coming from the public are suitably included in the Mann Ki Baat.
It becomes a public communication also because the Prime Minster talks about many flagship programmes of welfare and provisions which could eliminate poverty, raise standard of living and improve security of the country, the things which matter too much to the people.
Sharing information is vital to win the trust of the people and it is this trust that converts power of the executive into authority. Power alone is not enough for authority, the leaders require credibility for authority. Mann Ki Baat as a platform of public communication has served the purpose.
Mann Ki Bat is more about the quality of ideas, arguments, and organization rather than the performance and delivery aspects of public speaking. The relevance of the theme and its national and human purpose has always remained more important in the programme than the importance of "oratory" or "elocution." The softness of the Prime Minister in Mann Ki Baat spreads the feeling of sitting in front of a friend, philosopher and guide.
The expanse of the coverage is not borne out of academic excellence, but reflection, introspection and practical wisdom. Sometimes the coverage of issues are so wide and comprehensive that many wonder and left awe inspired how a busy state head like Prime Minister could engage so deeply and seriously with public and their concerns. It requires more of "emotional intelligence" than "intelligence quotient." If Mann Ki Baat proves anything, it is that the Prime Minster of India is very rich in emotional intelligence.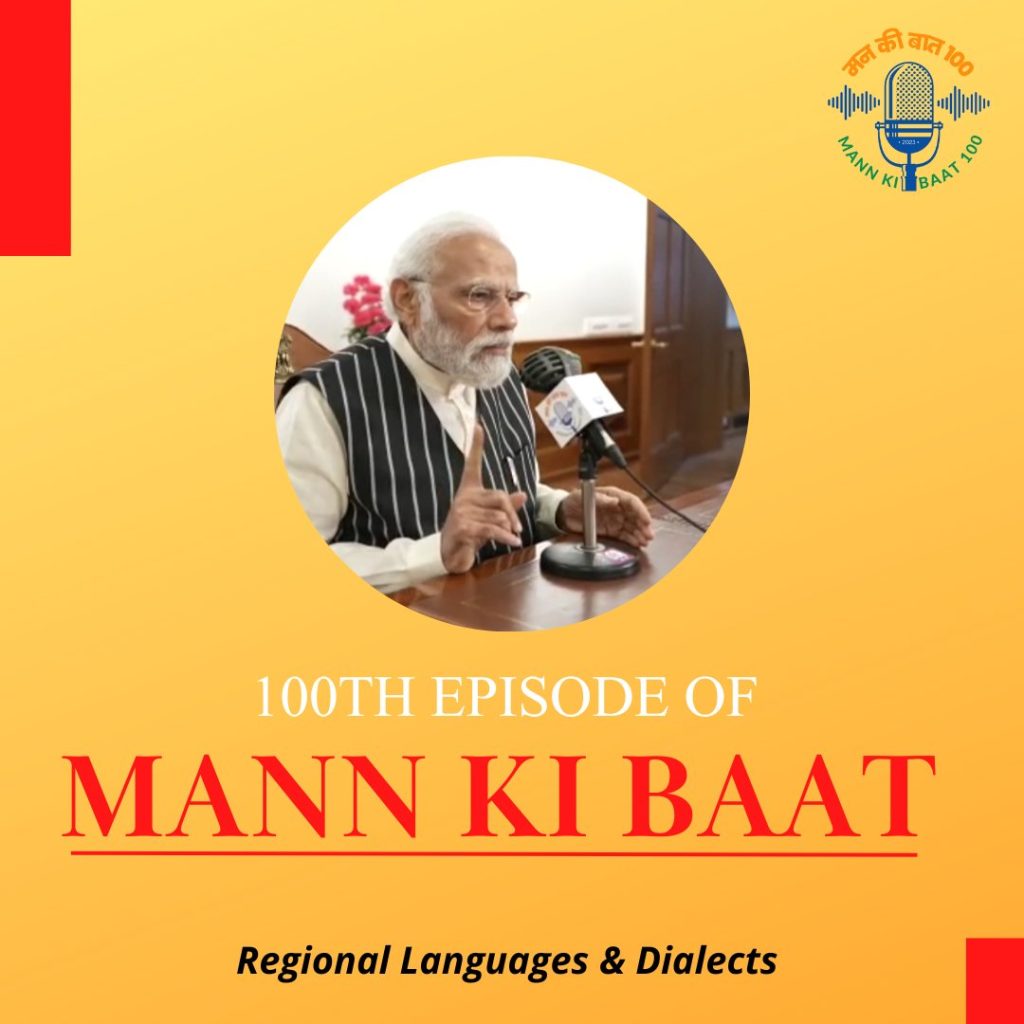 Mann Ki Baat has promoted inclusivity. A study conducted by the Indian Institute of Mass Communication (IIMC) found that 76% of the Indian media
persons believe that Mann Ki Baat has played a significant role in introducing the "Real Bharat" to the countrymen. According to the study, the programme has acquainted people with what is happening in other parts of the country and inspired them by referring to grass root level innovations and social initiatives.
With 100 episodes of Mann Ki Baat, Narendra Modi is falling into the pantheon of leaders who are known for using the medium of radio effectively for communication with people. Radio is an important means of communication with people world over, more particularly the US. The weekly address of the President of the United States is the weekly speech by the President of the nation. Franklin D. Roosevelt was the first US President to deliver such radio addresses.
Barack Obama used YouTube for regular video addresses as President-elect and since his inauguration the weekly addresses have continued on the White House website. It has long become customary for the President's Weekly Radio Address to be followed by a response from the opposition party.
British war-years Prime Minister Churchill's memorable radio broadcasts are viewed as the benchmark for Prime Ministerial broadcasting, which later politicians often sought to match. Today given the resounding success and popularity of Mann Ki Baat, many people now feel that a US like system of response from opposition about their alternative views could only add to promotion of such public communication and conversation.
Advertisements
[soliloquy id="31272"]
Advertisements
[soliloquy id="31269"]