The energy on stage was infectious with the women discussing issues ranging from gender parity at work places to supportive co-workers, parents, spouses and bosses….reports Asian Lite News
Under the aegis of the Indian Consulate, Dubai, media personality Manju Ramanan hosted and organised an event titled 'Women in Cinema from the UAE.'
The panelists included pan Indian actor/ dancer Kalpana Iyer, line producer Mini Sarma, Bollywood screen writer Althea Kaushal, Film maker Haseeba Freiha, Director of the Dubai Meta Film Festival Leila Masinei and Founder and MD Cinema Akil, Butheina Hamed Kazim. The event was sponsored and supported by KKDD Films, Khaleej Times, Playfield Entertainment, Innara, Al Ain Water, Cochin Harbour, Aroushi Beauty Salon and Spa and Bobby Sahotra.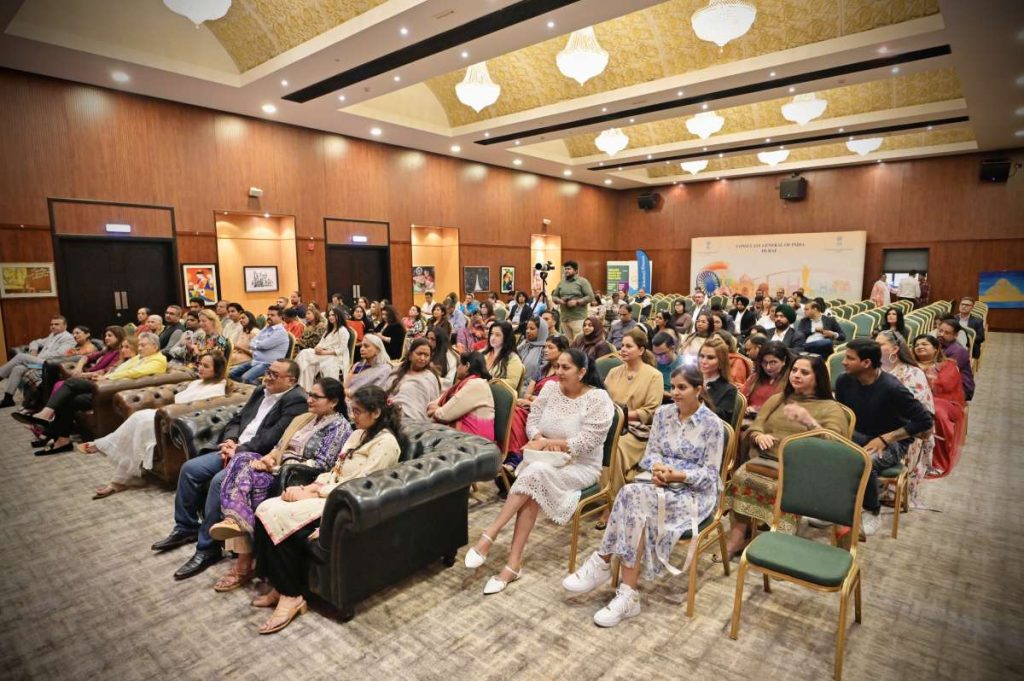 Dubai based entrepreneur who specialises in sustainable products, Guddi Bajaj helmed the operations of the event. The energy on stage was infectious with the women discussing issues ranging from gender parity at work places to supportive co-workers, parents, spouses and bosses. Shri Bijender Singh, Consul (Consular, Labour & MADAD) inaugurated the event with Dubai based businessman Rajan Lall and supported the initiative. "
It is great to see so many inspiring stories of women who are at the helm of film making," he said.
Social activist and film producer Smita Thackeray graced the event and addressed the audience. "I am very happy that women cinema in the UAE have come together to talk on issues common to all women film makers across the world," she said.
"This is a story that I would have otherwise written. It played out as an event and I thank the Indian Consulate Dubai, sponsors and friends for helping me put this event together, " says Manju Ramanan."
"This event was meant to be. We worked tirelessly to put it out," says Guddi Bajaj.
Each of the women on the panel – an achiever in her field of work, took part in the discussion enthusiastically. The crowd that had mixed nationalities supported the women and shot questions at them that the ladies answered spontaneously. The event ran for an hour and a half and ended right in time for Iftar.
Advertisements
[soliloquy id="31272"]
Advertisements
[soliloquy id="31269"]