Saudi Arabia is also hoping to expand its base into India's petrochemical sector, reports Asian Lite Newsdesk
Saudi Crown Prince and newly appointed Prime Minister of the Kingdom, Mohammed bin Salman is expected to be in New Delhi for a short one-day visit on November 14.
In Delhi, the Saudi Crown Prince will meet with Prime Minister Narendra Modi, External Affairs Minister S Jaishankar and National Security Advisor (NSA) Ajit Doval, before heading to Bali, Indonesia for G20 Leader's Summit.
The programme is still evolving and there is no formal announcement of the visit yet.
Trade and investment will be the key areas of focus during talks between India-Saudi leadership in New Delhi, according to a source.
Trade between the two countries stands at nearly USD 43 billion this fiscal year. Source told ANI that India is looking for more exports to the kingdom, Saudi is already a big market for Indian footwear and textiles.
Meanwhile, Saudi Arabia is also hoping to expand its base into India's petrochemical sector.
Talks on the formation of mutual halal certification agencies to stop misuse and undersea power transmission line from Saudi to India are also progressing. Deliberation is also taking place on institutionalizing the Rupee-Riyal trade, introduction of UPI and Rupay cards.
The Russia-Ukraine conflict has led to a massive jump in global inflation led by spiralling oil prices. Saudi is a major oil exporter to India and New Delhi will be hoping for some relief in this aspect.
Saudi-led OPEC is already under fire for cutting oil production from November onwards. The United States says it is a political move and many experts says that this will lead to a further increase in global inflation.
Saudi Energy Minister Prince Abdulaziz Bin Salman recently visited India.
Meanwhile, Minister Jaishankar visited Riyadh in September and discussed cooperation in the political, security and socio-cultural pillars of strategic partnership.
Earlier this week, the Saudi Crown Prince had launched the Global Supply Chain Resilience Initiative.

It aims to make Saudi Arabia a preferred location for leading global industrial companies and to attract 40 billion Saudi riyals ($10.64 billion) of quality, industrial and service investments in global supply chains, Xinhua news agency reported, citing the Saudi Press Agency's report.

Under the initiative, financial and non-financial incentives worth 10 billion Saudi riyals will support global investors who are interested in incorporating Saudi Arabia into their supply chains, according to the report.

The crown prince said that the initiative, along with other development initiatives launched in recent years, will help investors from all sectors benefit from the kingdom's resources and capabilities as well as support and develop these value chains.

The initiative is expected to bring Saudi Arabia closer to being a top 15 global economy by 2030 and leave a generous legacy for future generations, he added.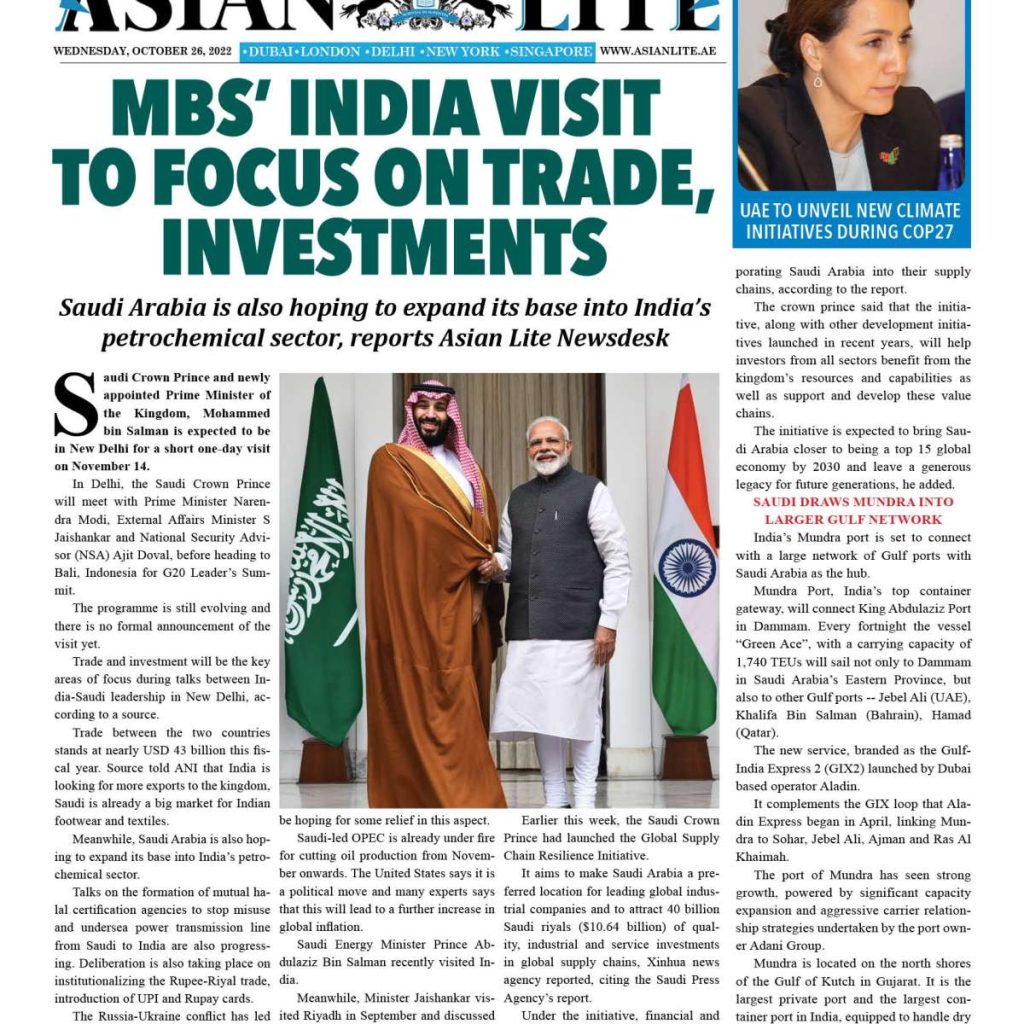 Saudi draws Mundra into larger Gulf network
India's Mundra port is set to connect with a large network of Gulf ports with Saudi Arabia as the hub.

Mundra Port, India's top container gateway, will connect King Abdulaziz Port in Dammam. Every fortnight the vessel "Green Ace", with a carrying capacity of 1,740 TEUs will sail not only to Dammam in Saudi Arabia's Eastern Province, but also to other Gulf ports — Jebel Ali (UAE), Khalifa Bin Salman (Bahrain), Hamad (Qatar).

The new service, branded as the Gulf-India Express 2 (GIX2) launched by Dubai based operator Aladin.

It complements the GIX loop that Aladin Express began in April, linking Mundra to Sohar, Jebel Ali, Ajman and Ras Al Khaimah.

The port of Mundra has seen strong growth, powered by significant capacity expansion and aggressive carrier relationship strategies undertaken by the port owner Adani Group.

Mundra is located on the north shores of the Gulf of Kutch in Gujarat. It is the largest private port and the largest container port in India, equipped to handle dry cargo, liquid cargo, crude cargo, and containers. (this story contains reports from Naveen Kapoor and Irfan Mohammed)
Advertisements
[soliloquy id="31272"]
Advertisements
[soliloquy id="31269"]