The agreements outline the intention of the companies to manufacture the products in the UAE, supporting the 'Make it in the Emirates' initiative and the 'Abu Dhabi Industrial Strategy'….reports Asian Lite News
ADNOC, a reliable and responsible provider of lower-carbon intensity energy, announced it has signed agreements with 23 UAE and international companies for local manufacturing opportunities across a wide range of critical industrial products worth AED17 billion ($4.63 billion).
The agreements outline the intention of the companies to manufacture these products in the UAE, supporting the 'Make it in the Emirates' initiative and the 'Abu Dhabi Industrial Strategy'.
The products are part of the AED70 billion ($19 billion) worth of products in ADNOC's procurement pipeline that the company identified for domestic manufacturing in July 2022.
ADNOC continues to encourage the private sector to capitalise on the commercial opportunities for domestic manufacturing across its value chain through its In-Country Value (ICV) programme, as it expands and decarbonises its operations.
Dr. Saleh Al Hashimi, ADNOC Director, Commercial & In-Country Value Directorate, said: "In line with the directives of the UAE's wise leadership, ADNOC is creating long-term domestic manufacturing opportunities from our procurement pipeline to enhance the UAE's industrial base and strengthen the resilience of our supply chains as we make today's energy cleaner and invest in the clean energies of the future."
"These agreements reinforce our role as a critical engine for the UAE's industrial growth, and they offer significant potential to further increase our GDP contributions, stimulate economic diversification and create more skilled job opportunities for UAE Nationals. We look forward to working with these companies to deliver on these important agreements and drive more sustainable value to the UAE."
Last year, ADNOC signed agreements for local manufacturing commitments worth over AED25 billion ($6.8 billion) with UAE and international companies. The company continues to take a transparent approach to showcasing its product outlook as part of its ICV program.
This approach underscores ADNOC's efforts to ensure business continuity and incentivise investors and suppliers to set up or expand manufacturing capacity in the UAE. ADNOC aims to drive AED175 billion ($48 billion) back into the UAE economy through its ICV programme as part of its five-year business plan for 2023-2027.
Decarbonising operations
ADNOC Distribution recently announced plans to reduce its carbon intensity by 25% by 2030. This will be implemented by putting sustainability at the core of its day-to-day operations to future-proof its business and deliver sustainable long-term shareholder value.
Central to ADNOC Distribution's enhanced sustainability drive is a commitment to decarbonise its operations by reducing its Scope 1 carbon emissions, which come directly from its operations, and its Scope 2 carbon emissions, which come from the energy it uses to run its operations.
The company said it will install solar panels to power service stations and use biofuels in its fleet of vehicles, in addition to expanding its network of EV charging stations. It will utilise "green concrete", which is eco-friendly and has a smaller carbon footprint than traditional concrete, to construct new service stations.
ADNOC Distribution has also become the first UAE fuel and convenience retailer to tap into sustainable financing by converting an existing US$1.5 billion (AED5.5 billion) term loan into a sustainability-linked one in partnership with First Abu Dhabi Bank (FAB) as ESG Coordinator.
ADNOC Distribution has committed to a penalty/incentive Sustainability Linked Loan which ties the loan to sustainability indicators. In addition to FAB, Abu Dhabi Commercial Bank, Bank of China, Industrial and Commercial Bank of China, and Standard Chartered Bank are parties to the loan.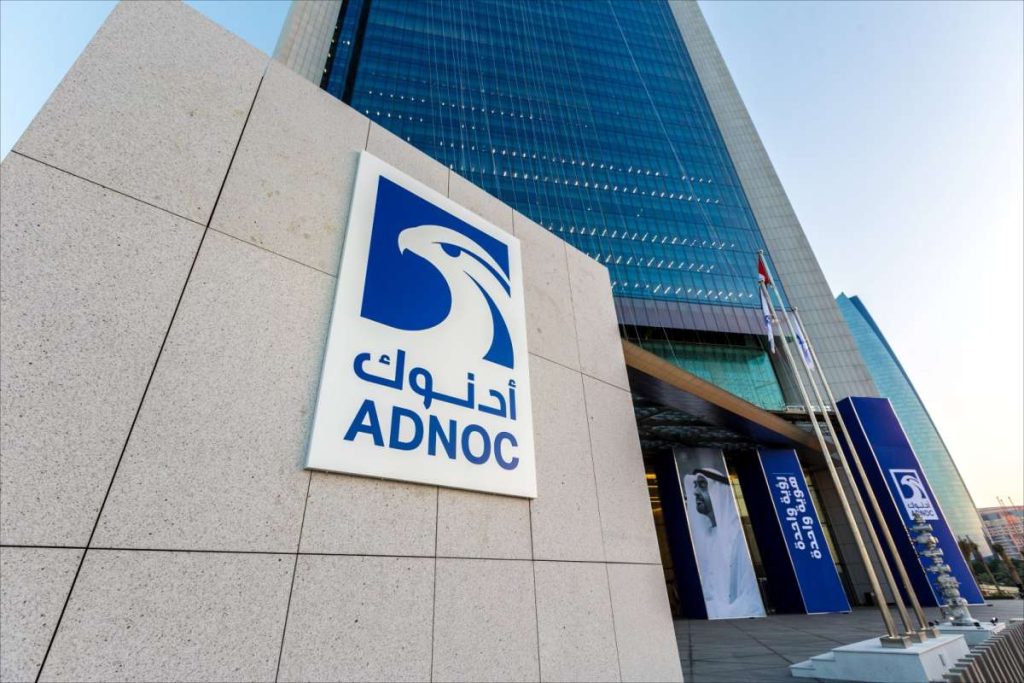 UAE's most valuable brand
ADNOC maintained in 2023 its position as the UAE's most valuable brand for the fifth consecutive year, according to a new report from Brand Finance, the world's leading independent brand valuation consultancy.
ADNOC's brand value increased by 11% year-on-year to reach $14.2 billion in 2023, an ADNOC statement said on Wednesday.
ADNOC Brand Strength Index increased from 79.1 points to 79.4 points, maintaining its "AA+" brand strength rating. Globally amongst all brands, ADNOC climbed 28 places to 138th place from 167th in 2022.
Within the oil and gas industry, ADNOC rose one rank to 8th place.
In terms of brand strength, ADNOC is now the 10th strongest oil and gas brand globally, up two places from 12th in 2022.
Advertisements
[soliloquy id="31272"]
Advertisements
[soliloquy id="31269"]