The projects are expected to create approximately 13,000 job opportunities and boost national GDP in the partnering countries by more than $1.6 billion….reports Asian Lite News
Companies from the UAE, Egypt, Jordan and Bahrain signed industrial agreements with an investment value exceeding $ 2 billion at the third Higher Committee meeting of the Industrial Partnership for Sustainable Economic Development.
The meeting kicked off in Amman on Sunday in the presence of Dr Sultan bin Ahmed Al Jaber, UAE Minister of Industry and Advanced Technology and the UAE's special envoy for climate change, Ahmed Samir Saleh, Egyptian Minister of Industry and Trade of Egypt, Yousef Al Shamali, Jordanian Minister of Industry, Trade and Supply, and Abdulla Adel Fakhro, Bahraini Minister of Industry and Commerce.
The meeting included the signing of 12 agreements across 9 industrial projects. The projects are expected to create approximately 13,000 job opportunities and boost national GDP in the partnering countries by more than $1.6 billion.
Jordan's Prime Minister Dr Bisher Al-Khasawneh attended the signing ceremony of the partnership agreements along with the industrial ministers from the four countries.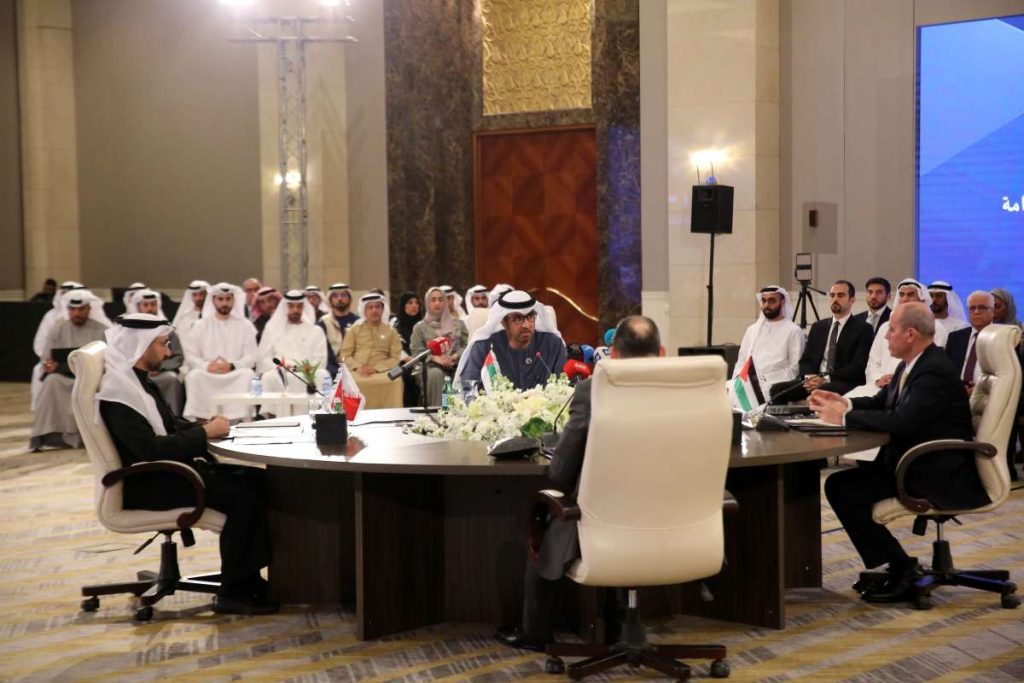 Dr Al-Khasawneh met with the ministers of the partner countries and stressed the importance of this partnership in strengthening bilateral relations and economic development, along with the importance of the industrial sector's role within participating countries.
Dr Al Jaber said: "We are keen on collaborating and complementing regional efforts to achieve integrated sustainable economic development. The UAE is committed to enhancing collaboration with member states to ensure we all benefit from each other's competitive advantages and capabilities.
"This partnership is beginning to yield tangible results. It represents an exceptional model for industrial partnerships among private sector companies. It is testament to our collective ability to plan, integrate, and progress towards achieving our objectives, all while we are still at the beginning of this fruitful partnership. We are confident that we will witness the development of many new projects in the future."
He added: "We call on companies in our respective countries to enter these partnerships and put forward proposals for projects that benefit from the capabilities of our countries and from our competitive advantages, resources, and expertise. As governments, our responsibility is to support these projects, enhance partnerships and provide the economic environment that enables their success."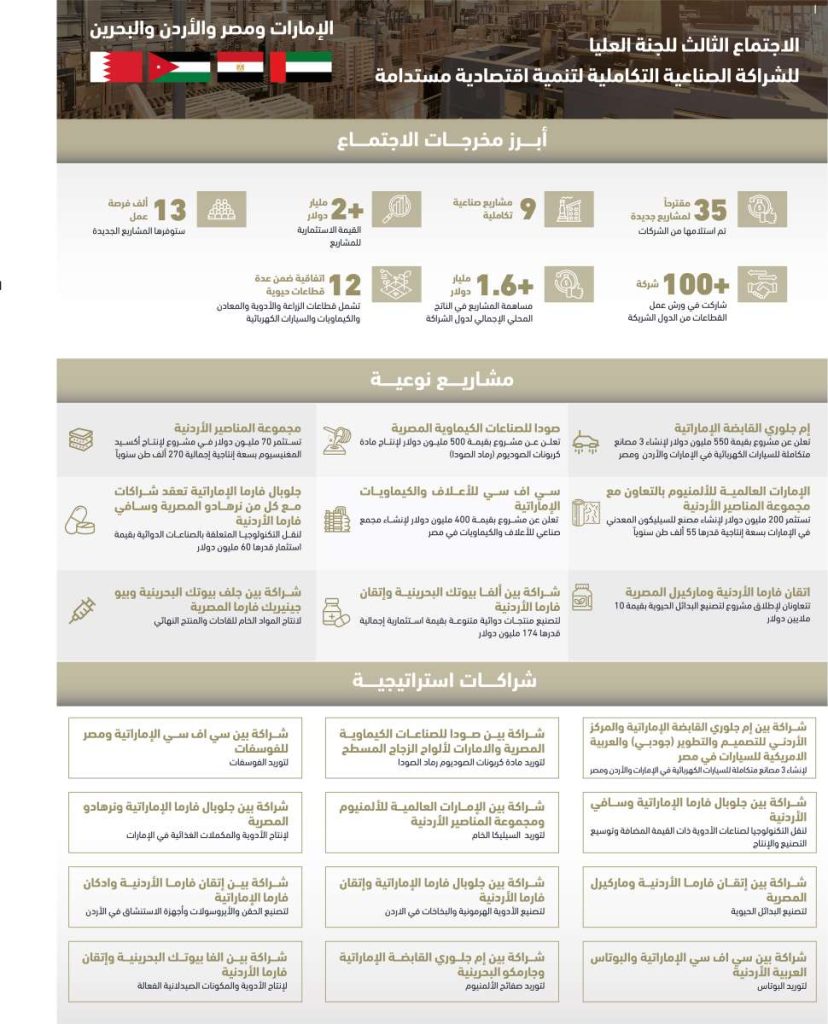 12 major agreements
The Egyptian company Soda Chemical Industries announced an investment of $500 million to produce sodium carbonate, 'soda ash', which is the main raw material in many industries, such as the glass and detergent sector. The facility will have a production capacity of 500,000 tons annually.
A MoU was signed for a strategic partnership with the Emirates Flat Glass Company, owned by Dubai Investments, to purchase the final product.
UAE-based automotive manufacturer M Glory Holding announced the launch of a large manufacturing project with an investment of $550 million. The project will establish 3 electric vehicle factories with specialized production and assembly lines in the UAE, Jordan and Egypt.
Production capacity will reach 40,000 compact crossover SUVs during the first three years of operation. M Glory Holding signed memoranda of understanding with the Jordan Design and Development Bureau and Egypt's Arab Organisation for Industrialization as manufacturing partners, and with Bahrain's GARMCO to supply aluminum sheets. The agreement exemplifies how the partnership aligns with sustainability objectives and the UAE's presidency of COP28.
Emirati investor-owned CFC Group announced it will invest $400 million to establish an industrial complex for fertilizers and chemicals in Egypt. It signed MoUs with Jordan-based Arab Potash and Egypt's Misr Phosphate Company to supply raw materials. The industrial complex will have an annual production capacity of half-a-ton of fodder and potash fertilizers, and 1.1 tons of chemicals.
Emirates Global Aluminium announced a $200 million investment to establish a silicon metal plant in the UAE with a production capacity of 55,000 tons per year. The company signed a MoU with the Jordan's Manaseer Group to supply the required crystalline silica.
The UAE's Globalpharma entered a partnership with Egypt's Nerhadou to develop advanced technology for the manufacturing of medicines and supplements. An agreement was also signed to transfer technology to two Jordanian companies – Savvy Pharma and Triumph. Both projects will commence in 2023 with a total investment value of $60 million. Production capacity will reach 5 million packages annually per product.
Jordanian company Itqan announced a technology transfer partnership and contract manufacturing agreement with Globalpharma and ADCAN Pharma to manufacture syringes, aerosols, and inhalers. It also entered a MoU with Egypt's Marcyrl for the transfer of technology in manufacturing biosimilars in Jordan at a total investment value of $10 million, with the aim of launching products by Q4 2024.
Bahrain-based Alpha Biotic signed two MoUs for knowledge and technology transfer as well as contract manufacturing with Jordan's Dar Al Dawa and Egypt's EIPICO, to produce general products, oncology products, medical solutions, and other pharmaceutical products. At an investment value of $174 million over two phases, the project's production capacity is expected to reach 350 million pills per year.
Meanwhile,Bahrain's capital will host the fourth meeting of the Higher Committee for the Integrated Industrial Partnership for Sustainable Economic Development, where more joint projects will be discussed.
Advertisements
[soliloquy id="31272"]
Advertisements
[soliloquy id="31269"]