Pakistan ordered undocumented foreigners, including Afghans residing in Pakistan, to leave the country by a deadline of 1 November this year….reports Asian Lite News
The UN Human Rights Chief Volker Turk said on Wednesday that he was alarmed by reports that the arbitrary expulsion of Afghan nationals from Pakistan has been accompanied by abuse, including ill-treatment, arbitrary arrests and detention, destruction of property and personal belongings, and extortion, said UN Human Rights Office in a press statement.
Pakistan ordered undocumented foreigners, including Afghans residing in Pakistan, to leave the country by a deadline of 1 November this year. Between 15 September and 11 November, over 327,000 people have arrived in Afghanistan from Pakistan, many compelled to leave out of fear of arrest.
As per the official press statement, despite Pakistani authorities having issued a Government-wide circular stating that individuals in possession of Proof of Registration (PoR) and Afghan Citizen Cards could only be repatriated on a voluntary basis at this time, the UN Human Rights Office has received complaints that, at least in some cases, this has been disregarded. These cards have been issued by the Government of Pakistan with the support of the UN refugee agency, and PoR card holders are Government-recognized refugees.
"These new developments are at variance with Pakistan's decades-long tradition of hosting, generously, Afghan refugees in vast numbers," Turk said.
The UN Human Rights Office has received first-hand accounts from Afghans crossing the border who allege they were subjected to arbitrary treatment or abuse by Pakistan authorities.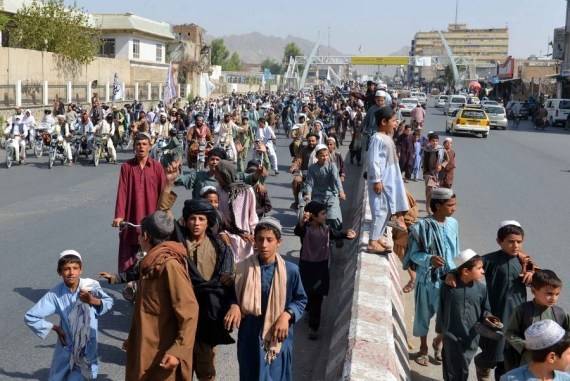 According to the UN statement, one person said, "The local police conducted a night raid on our home. They confiscated cash, jewellery, goats, sheep and other items from our home and took them. They gave us just a few hours to collect the remaining stuff and leave the home by that day at dawn. As we were leaving, a bulldozer began to destroy our home. We felt very helpless and left the village with eyes full of tears."
"Many Afghans are arriving with very few financial resources, having been forced to leave their homes and jobs, in addition to being forced to pay bribes or having their possessions seized," Turk said. "In the current context of Afghanistan, this is exacerbating an already precarious humanitarian situation."
In some instances reported to UN Human Rights, Afghans have been arbitrarily arrested and detained in Pakistan, with some alleging ill-treatment.
According to the press statement, "Arbitrary arrests and detentions are contrary to Pakistan's obligations under international law," Turk added. "The right to liberty of a person is a fundamental right guaranteed to everyone without discrimination, including all migrants, irrespective of status. Immigration detention should be a last resort, and not used to compel return, and should be avoided completely in the case of children and other vulnerable groups."
Women and girls arriving in Afghanistan are particularly vulnerable. The de facto authorities' policies and edicts mean that they will be prevented from continuing their education beyond grade six, from working in most sectors, from accessing parks and other public spaces, and will face other broad restrictions on their participation in daily and public life.
"Pakistan must ensure protection for individuals who may face persecution, torture, ill-treatment or other irreparable harm in Afghanistan, in accordance with the principle of non-refoulement," Turk said. "This includes Afghan women and girls, former government officials and security personnel, ethnic and religious minorities, human rights defenders and civil society activists and media workers.
"The de facto authorities, as the duty bearers of Afghanistan's international human rights obligations, are obliged to ensure that such individuals are not targeted in Afghanistan after their arrival."
The UN High Commissioner for Human Rights renewed his appeal to the Government of Pakistan to suspend the Afghan return programme until individual assessment procedures and other safeguards required by international law are in place, and to investigate complaints of abuse by law enforcement officers. (ANI)
Advertisements
[soliloquy id="31272"]
Advertisements
[soliloquy id="31269"]