Ambika, who is known for her keen interest in sustainable weddings, says during monsoons, chances of delayed flower shipments are high…reports Asian Lite News
What could be more romantic than rain when you're in love and about to embark on a new chapter in your life? In this situation, a monsoon wedding sounds ideal, but how practical is it? Of course, during the rainy season, resorts, hotels, and vendors offer discounts, and it is easier to book popular venues, but how can we ensure that unexpected showers do not inconvenience guests and ruin the dreamy atmosphere?

Entrepreneur, founder of The A-Cube Project and luxe event designer Ambika Gupta says, "Monsoon also brings with it many logistical challenges such as delayed delivery, travel impediments and traffic snarls etc. Rain proofing your venue, ensuring the comfort of the guests and managing the seamless flow of service are some of the other challenges. However, if planned effectively, monsoon weddings can be magical and unforgettable." Ambika shares some tips to ensure a hassle-free monsoon wedding:

Choose an indoor venue

Ambika, who has pulled off many celebrity weddings in different venues and breath-taking settings, advises an indoor wedding during monsoons. She says, "A lot of clients also opt for waterproof marquee tents, and romantic gazebos but to ensure the comfort of your guests when they arrive and leave during heavy showers can be a concern. Personalised umbrellas can be given to the guests and can even be used as part of the decor but if you want everyone present to enjoy the wedding in a totally protected environment, an indoor venue is the best bet. As a designer, I get inspired by the season, the venue, the personal story of the couple and so a monsoon wedding is the perfect opportunity to turn even an indoor space into a dream setting with decor accents that evoke romance."

Monsoon appropriate decor

While brides get busy choosing exquisite pieces for their trousseau and weighing whether to opt for a georgette, chanderi, gota, net, or an organza outfit for a monsoon wedding, wedding or decor designers have to weigh what materials and design accents are most practical during the rains. Ambika says, "Just as it is important to consider the length of the hemlines and how moisture could affect a bridal outfit or jewellery during the monsoon, a wedding designer must weigh which materials are most appropriate and how to create and assemble installations at the venue, how to transport backdrops, furniture, and a million other things needed to create a perfect ambience." She recommends planning in advance, the logistics of transporting materials, work force, flowers, light fixtures and more. She adds, "Rains are unpredictable but a wedding designer has to deliver every single time. I suggest that nothing be left to the last minute and every small detail be planned well in advance."

Avoid easily perishable flowers

Ambika, who is known for her keen interest in sustainable weddings, says during monsoons, chances of delayed flower shipments are high. She adds, "It is better to source flowers from trusted local vendors during monsoons or use sustainable options like Shola flowers which are not perishable. Tropical plants, an assortment of hyper-realistic flowers made from paper or fabric can create beautiful settings as well. The point is to work with what is easily available, practical and yet beautiful."

Plan your menu wisely

Food usually does not fall under the purview of the wedding designer, says Ambika but it has to be styled as well to become a part of the overall experience. She adds, "During monsoon, details like where the food is coming from, when it will arrive and how it will be served, are very important for a designer. That is why I always recommend synergising with the caterers so that the timelines match and we know what kind of courses are being served well in advance." It is also important to be mindful of allergies and contamination during monsoon and serve only freshly made, piping hot delicacies rather than cold cuts, seafood and chilled salads, adds Ambika.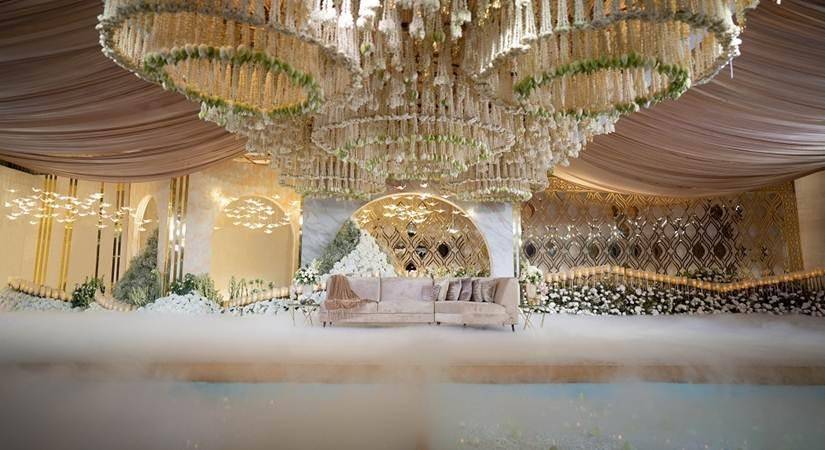 Mind the comfort of your guests

In the end, guests always remember how well they were taken care of or if they were subjected to unnecessary discomfort. She adds, "A lot of times, clients want to host pool parties and rain dances before a wedding. I advise them to check how many guests would be comfortable with these ideas and consider questions like will they have to carry extra sets of clothes, will they need flip flops, where will they change etc. It is also important to ensure that while arriving and leaving, they are escorted with umbrellas." And lastly, the venue must be designed to be comfortable and must exude a sense of warmth and safety no matter how hard it is raining outside, she concludes.
ALSO READ-'We are all beautiful in our own way'
Advertisements
[soliloquy id="31272"]
Advertisements
[soliloquy id="31269"]